How Your Dog Benefits From Prebiotics And Antioxidants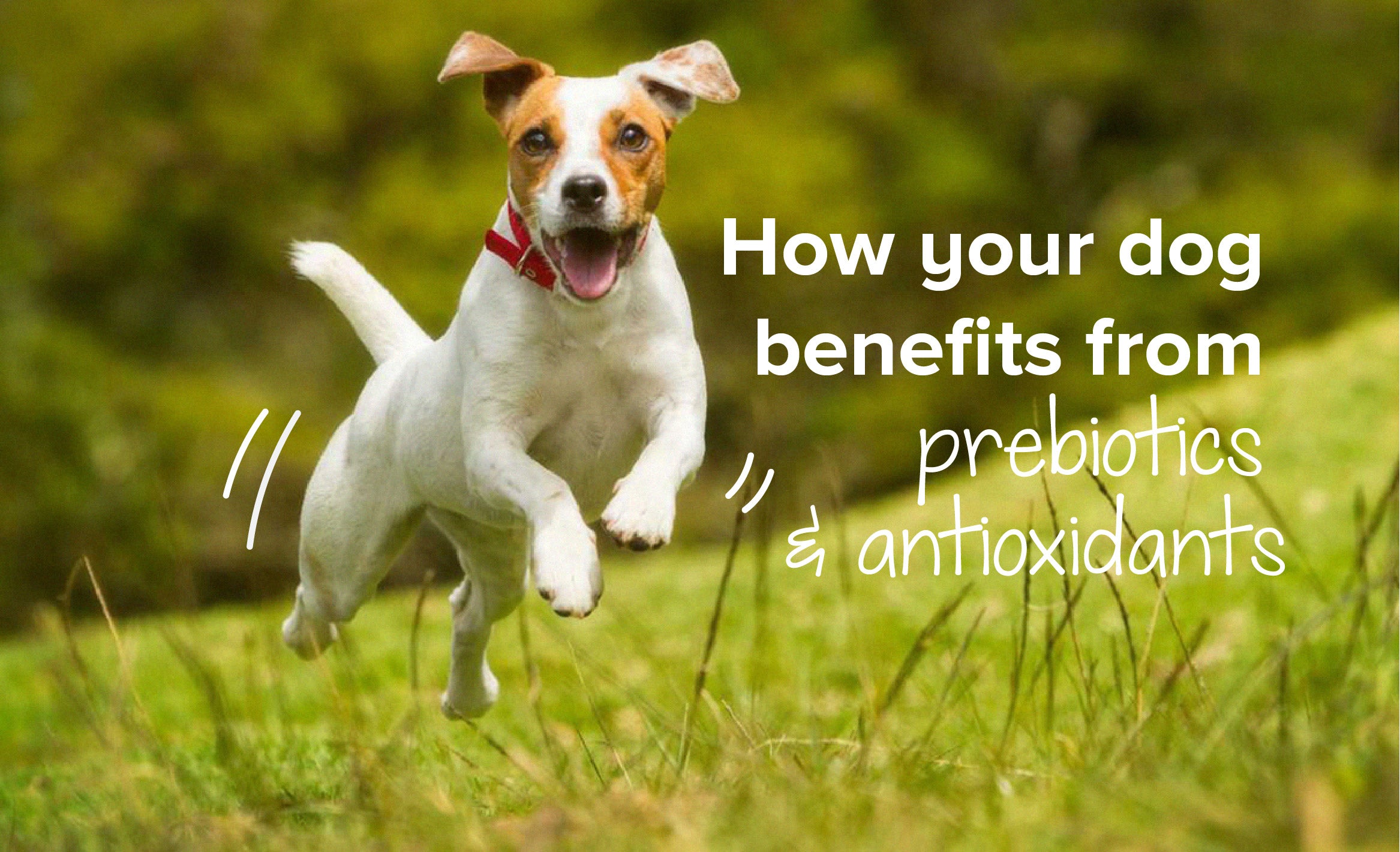 When it comes to canine SMART NUTRITION, we all want the gold-standard for our best friends. While many meals are designed exclusively with good health in mind, the number of brands that go the extra distance and include prebiotics and antioxidants are surprisingly few and far between. Almost all of us have heard these terms, but when it comes to understanding what exactly they do for our pups, things can get a little more complicated. With this in mind, we've taken a closer look at both prebiotics and antioxidants, and how your dog benefits from having them incorporated into their diet.
 Benefits of prebiotics
"Prebiotics? You mean probiotics, right?"
Good question! As easy as it can be to mix the two of them up, they're a lot more distinct from one another than many people realise. That said, prebiotics do work to support probiotics, but a simple definition of a prebiotic would be non-digestible ingredients in meals that help your pup by stimulating the growth of select bacteria found naturally in the colon, which provide numerous benefits for your best friend. Additionally, prebiotics are a type of fibre that limits the spread and growth of detrimental bacteria throughout the body, so they can significantly reduce the potential risk of certain illnesses and medical issues, such as diarrhoea. 
Dogs who regularly consume prebiotics also see vastly improved digestive health, and a more robust immune system, so you'll start to see an exaggerated difference if you incorporate prebiotics into their diet!
When coupled with probiotics (this combination is called symbiotic, which highlights the critical synergy between the two), the probiotics can grow more efficiently and work more effectively to help your pup. Prebiotics then travel through to the colon, where they are converted into short-chain fatty acids, or SCFAs, for short. This process allows the prebiotics to work as an energy source for the colon cells, which preserves a healthy balance of electrolytes and fluids. The balance also supports the intestines, ensuring they function without any issues. When present in the bowels, prebiotics promote and support healthier digestive flora that supply your dog with the nutrients and vitamins they need to live actively.
 Benefits of antioxidants
Has your dog been feeling low lately? Maybe they've been getting sick more easily, or finding that their energy isn't at the level it should be? If so, a healthy supply of antioxidants might be precisely what they need to get them back to their best!
But why are antioxidants so important? Because, at the simplest level, they protect the body from damage caused by free radicals. Free radicals— which are highly reactive, oxygen-containing molecules — are a significant risk to cell membranes, enzymes, and even your pup's DNA itself. With the damage they cause, they leave your pet's immune and nervous systems at risk, which in turn leads to a higher risk of disease and premature ageing in dogs of all breeds. While free radicals are produced naturally, they appear in higher than average amounts in dogs who are sick, elderly, or malnourished. 
Antioxidants, as the name implies, work to neutralise the oxygen-containing modules, considerably reducing the damage free radicals cause by supplying them with electrons and breaking their vicious cycle of molecular and cellular decay. Antioxidants are also rich in vitamins C and E, beta-carotene, and selenium, which means that they're invaluable for supporting your pup's immune system and natural defences against sickness and injury. 
As a bonus, antioxidants in dog food help keep meals fresher for longer without the need for harmful preservatives, further reducing the risk of your pup eating anything that might do more harm than good. They have even been shown to help pets of all breeds and ages that suffer from allergies, as well as any coat or skin problems, so you can be sure that they'll look and feel their best as they age.
It's easy to see just how valuable both prebiotics and antioxidants can be for your pup, and nobody understands that quite like Olympic Professional.
 Olympic Professional
With their state-of-the-art production methods using only the freshest, safest ingredients, Olympic Professional meals are rich in prebiotics and antioxidants to help modulate and deal with any intestinal irregularities, as well as neutralising harmful free radicals. And with a highly trained team of specialists overseeing every bag that leaves their factory, you and your pup can rest easy, knowing that their nutrition is in the safest hands possible. 
Your best friend deserves the gold-standard in pet nutrition; so browse Olympic

 

Professional's range of meals for dogs of all ages, breeds, and lifestyles today, and find out why everyone's barking about Olympic Professional!
---