The Benefits Of Using CBD Oil As A Remedy To Storm Anxiety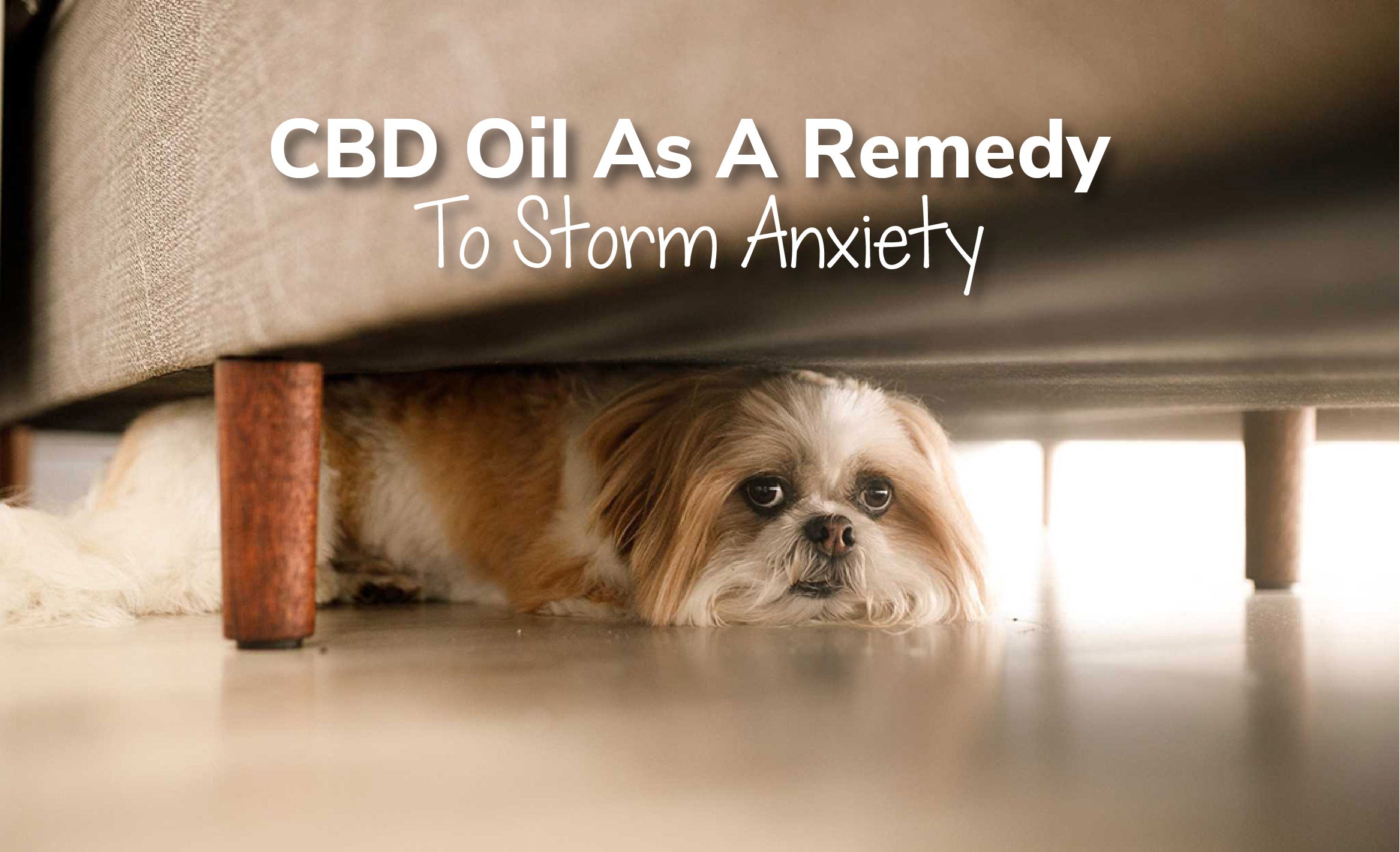 Let CBD calm your dog during stormy season 
The first strike of lightning and a loud clap of thunder sends your pets scurrying under the bed, behind something or straight onto your lap! 
Our pets react to this frightening experience by pumping adrenaline into their veins - which even through trying to calm their behaviour or protecting them by covering them will only get you so far. Once your pet is stimulated like this, behaviour such as chewing, scratching or whining will occur. 
It is estimated that almost 40% of dogs experience noise anxiety. Storms contribute largely to this, especially in the summer months in Johannesburg. 
Thunderstorm Anxiety in Dogs
Dogs are way more aware of our environment and surroundings than their human owners. Many dogs are afraid of thunderstorms as they do not know what it is or what is going on. Sudden changes in their environment can trigger anxiety. Thunderstorms are a large cause of this trigger and many dogs suffer from extreme anxiety because of them. 
What are the symptoms of storm anxiety? These may include trembling, pacing, panting, whimpering, fidgeting, scratching, barking, aggression, licking, loss of appetite or despite being house trained not making it outside. Some pets try to hide during a storm, others require more attention, no matter which CBD can help your furry friend. 
Some research indicates that the feeling of static electricity in the air from a storm is disturbing to dogs. This is due to the atmospheric changes which can cause a static build up in a dogs coat, and this could feel very similar to an electric shock.
According to Director of the Animal Behavior Department at the Cummings School of Veterinary Medicine at Tufts University, Dr. Nicholas Dodman, dogs can experience several shocks from static electricity during a thunderstorm. Do thunderstorms have your dog running towards grounded spaces like the basement or bathtub? The buildup of static electricity in their coat could be why.
How can CBD oil help? 
CBD oil treats the endocannabinoid system in the body which all mammals have. It has become a very popular natural treatment with no side effects for the treatment of anxiety and humans are not the only ones to benefit from this. More and more pet owners are administering CBD to their pets for the treatment of anxiety. CBD promotes the stimulation of serotonin, often known as the happy chemical, in the body and assists in regulating chemical imbalances. The oil will assist in regulating your pets mood, pain, inflammation and anxiety. This natural treatment can really help your furry friend live their best life. 
We don't create patients, we create health 
The African Cannamed Co has been providing the highest quality CBD oil products to South Africa for over 4 years. Their mission is simple - to deliver the highest quality phytocannabinoids as quickly as possible to their customers. The African Cannamed Co was created with the belief in alternative treatment through Cannabis Oil and other rich nutrients of the Hemp plant. Their vision is to create quality Phytocannabinoid enriched (PCR) infused products that are safe, effective alternatives to prescription painkillers, toxic prescription drugs and over the counter medicines with harsh chemical compounds alien to nature's remedies. Naturally. 
African Cannamed Case Studies 
Most amazing results for my bull terrier using the Pet CBD to alleviate his anxiety. 
I recommend using alternative natural medicine! I suffer from chronic urticaria and any NSAIDS can kill me. I am not able to take any regular flu meds due to my autoimmune and blood count thinking it is a threat. #NaturalRemediesRock
Absolutely amazing product. Highly recommended. I have my kids on it and it has done wonders for them. My son was a highly anxious little boy and since being on the CBD he has come out of his shell and his anxiety has decreased a lot! My daughter's school marks have improved. Their immune systems are better on it too. Thank you African Cannamed! 
My special needs boy had severe epilepsy, autism and optic atrophy. While on seizure medication he still had 2-3 seizures per week. We have been using the CBD oil l that you guys recommended and he has only had 2 seizures in a month and a half! My life has changed! Thanks guys for making me a very happy mommy! I will NEVER go without your CBD oil. 
I highly recommend these products. I suffered a severe neck injury which led to me having to use prescription painkillers for an extended period of time. Out of desperation I tried CBD oil through African Cannamed Co. I can honestly say that the full strength CBD was more effective than the prescription painkillers I was on, without any of the side effects and damage to my system that I was experiencing before I started using this product.
Well worth the try.
Joel
It is a pity our furry friends cannot give their testimonials - but there has been incredible feedback since releasing the pet CBD products last year. 
That is why ZUKi has felt it to be so crucial to pair up with Africa Cannamed as many pets experience some form of anxiety. Check out the new range in stock.
---