8 Easy ways to make car rides safe and enjoyable for your pets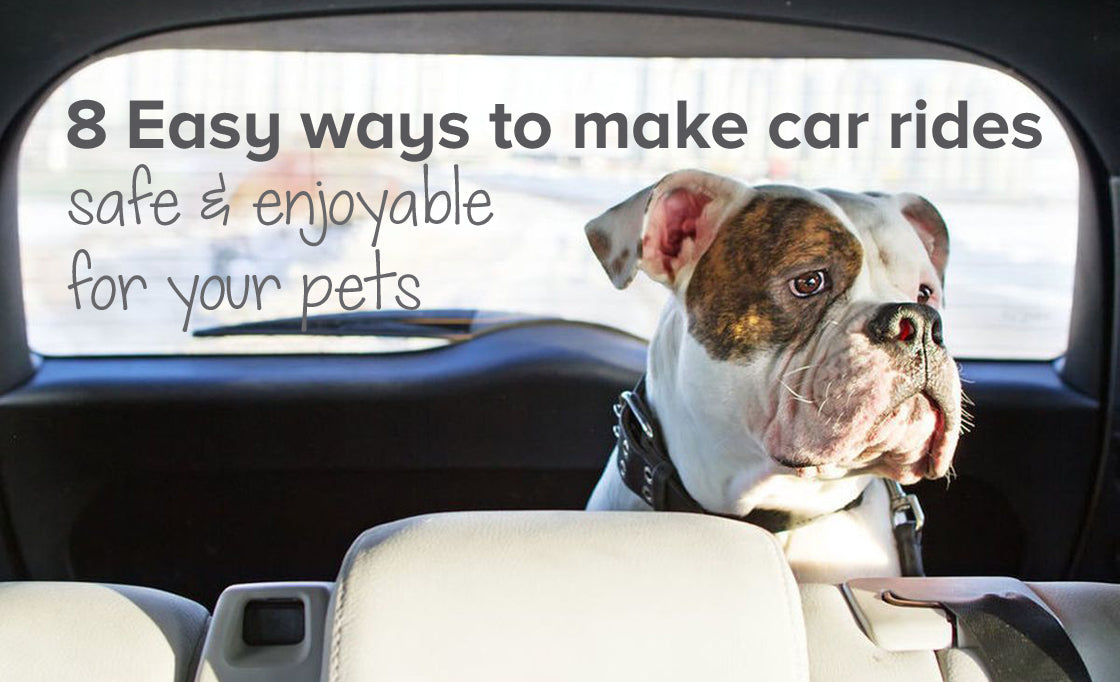 Some pets will spend many hours travelling in cars with their families, while for others, it will only be for dreaded vet check-ups! But whether the jangle of car keys elicits jubilation or trepidation, it's important to make sure your pets are safe, secure and protected when travelling. After all, a car trip is no fun for anyone if everyone is stressed out and anxious.
8 easy ways to make car rides safe and enjoyable for your pets
Start them young

. Get your pets used to travelling in a car as early as possible. Whether you have a puppy you plan to take on plenty of adventures or a kitty who'll need the occasional trip to the vet, getting them used to travelling will help to quell car-induced nerves. Take your pets on short trips to get them used to the motion of the car, and take a co-driver during the training process so that you can concentrate on your pet while the other person drives. Remember that cats in general don't like cars as much as dogs do, but wetting their paws early - so to speak - may certainly be a big help.

Train them. Just as the human members of your family know how to behave in a car, so too should the furry members. It's a good idea to give your pets a designated spot in the car (do this from the very first time, even before the vehicle is moving), and teach them to sit calmly in this area for the duration of the trip.
Strap them in

. You can get harnesses and seat belts for dogs that keep them securely trapped in and comfortable. This keeps your pet safest, especially in the event of an accident. The other thing to bear in mind is that in an accident, it's not only your pooch who could get injured: a dog hurtling around in a car can cause serious injury to people.

Protect them. For cats in particular, putting them inside a sturdy, well-ventilated carrier is ideal - even if your kitty doesn't agree! Even the most chilled cats can become sneaky escape artists once the car doors open, and a darting cat is almost impossible to catch. The other benefit of keeping them inside a kitty carrier is their own bodily protection: cats (especially kittens) could get stomped on underneath the driver's pedals, and in the event of an accident, a solid container will offer them the best protection against injury. Get your kitty used to her carrier early on - and don't worry if she meows in protest when she rides in the car.
No lap dogs (or cats)

. Even the tiniest, cutest dogs can be a massive distraction when they're sitting on your lap, hindering your ability to properly see and control your vehicle. Always make sure your dog is sitting in his spot or securely buckled in.

No air-surfing. Dogs love to stick their heads out of the window while the car is moving, but this can be harmful to them. Besides the risk of injury during an accident or escaping through the open window, there's also the chance that their eyes could get damaged by insects, particles or other outdoor hazards. Rather open the window enough for her to smell the aromas around her, but not enough to stick her whole head out.
Remember hydration

. If you're taking a longer trip, take a bowl and some water so your pooch can rehydrate. And of course you know that no animal should ever be left in a hot car, no matter how 'quick' you think you're going to be in that queue or running that errand. In high temperatures, an animal can succumb to the heat in as few as six minutes. 

Take spares

. It's quite common for cats to defecate very soon into the journey, especially those who are unhappy in the car. A good idea is to have extra towels or blankets in their carrier, so you can swap out the soiled one and everyone can continue the trip in comfort. 
It's time to hit the road! Buckle up, take it slow, and have a great adventure with your pet - or at the very least, a not-too-painful trip to the vet. Happy travels!
Disclaimer: Always consult your vet for professional advice. The Zuki.co.za blog is provided as an educational tool and should not be used to diagnose illness or treat an animal.
---