Battle the Bulge - The Pet Edition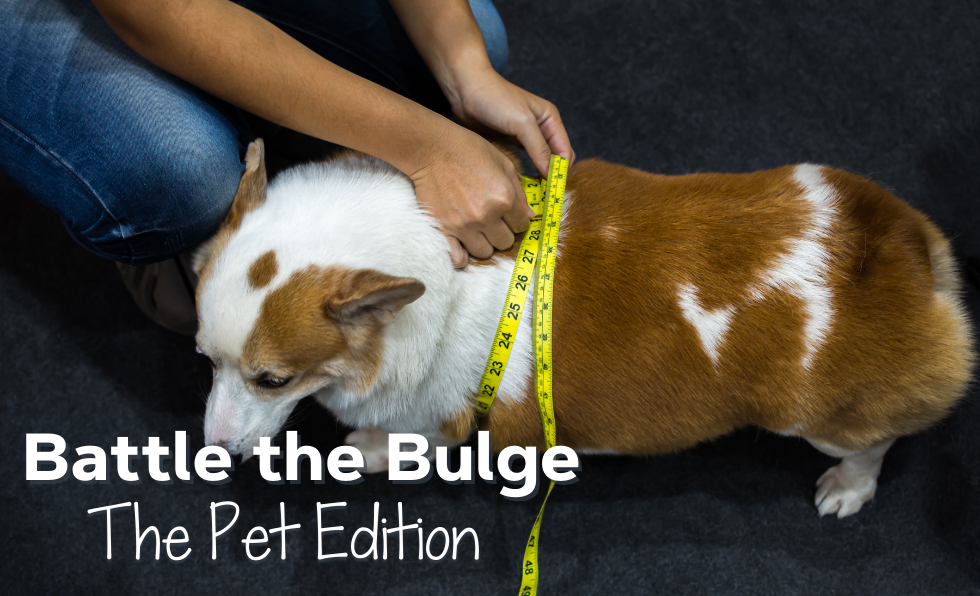 Obesity is an epidemic not limited to the human race … an astounding number of domesticated pets are fighting the bulge too.
CAUSES OF WEIGHT GAIN FOR DOGS AND CATS
HERE'S WHY PET OBESITY IS A HUGE RISK FOR YOUR FURRY COMPANION
DO I LOOK FAT IN THIS TAIL?
STRATEGY TO HELP YOUR PET BATTLE THE BULGE
VISIT THE VET
CAUSES OF WEIGHT GAIN IN DOGS AND CATS
Activity level: Weight gain often occurs when dogs and cats eat too many calories and don't exercise enough.
Age: As our precious pets get older, they require fewer calories.  If we as pet-parents don't change their food according to their changing nutritional needs, our furry friends can start to "pack on the pounds". 
Neutering / Spaying: While it's the responsible thing to do, the procedure modifies your pets' metabolism, making them prone to weight gain.
Breed: Some breeds are more predisposed to gain weight than others. Breeds such as Labradors, Rottweilers, Beagles, Spaniels, Dachshunds, Pugs, Persians, British Shorthairs, and mixed-breed cats, among others, are unfortunately susceptible to the "roly-poly gene".
HERE'S WHY PET OBESITY IS A HUGE RISK FOR YOUR FURRY COMPANION
Overweight furries are at risk of shorter lifespans, serious health conditions, and even depression.  As little as 20% additional body fat can lead to very serious health conditions, such as:
• Arthritis
• Urinary conditions
• Skin problems
• Heart disease
• Breathing problems
• Cancer
DO I LOOK FAT IN THIS TAIL?
Pets do not share our cosmetic concerns.  Crying in front of the mirror with a mouthful of cake is, thankfully, a uniquely human tendency.  Dogs care about things like their mobility, vitality, and how high they can pee up a tree.
Pets that are obese generally experience low mood and depression due to low energy, feeling diminished vitality levels, and not feeling well in general.  Our "pot-bellied" companions are suffering, and it's up to us to help them get better.
STRATEGY TO HELP YOUR PET BATTLE THE BULGE
As fur-mom to a previously obese (now slightly overweight) meow named Ozzy, let me tell you this ... your pet is not going to like you very much if you simply reduce their calorie intake.  Before coming across food options available for weight management, Ozzy's meows became more like high-pitched shrieks as we limited his feeding times to twice daily.  Thankfully, there are ways to make it easier on your food-loving, exercise-hating fur-friend:
STEP 1: CHECK YOUR PET'S BMI
The solution to helping your pet battle the bulge is to ensure he/she adopts and maintains a healthy diet and lifestyle.  The first hurdle is in determining your fur-baby's BMI.  Having an accurate diagnosis and idea of whether your pet is overweight or not will help you navigate your fluff's new weight loss journey.
Check out Hill's Body Condition Score tool to help determine your pet's level of risk of obesity. 
STEP 2: EXERCISE
The dirty E word!  Animals are born to run, jump and play.  When suffering from obesity, the inclination for your furry to get off the couch might be lacking.  Start slow, take your pet for a walk around the block and let them stop to enjoy the sights and sniffs.  If it's not possible to take your fuzz-bud out for a walk, then introduce daily playtime that involves an increase in activity levels.  Start with 10 minutes a day and increase incrementally up to 1 hour a day.
Click here to order cat toys for playtime 
Click here to order dog toys for playtime 
STEP 3: DIET
Whenever Ozzy would meow for food outside of feeding times, we'd liken him to the "green plant" in Little Shop of Horrors … "FEED ME, SEYMOUR!". 
If you've turned your pet in to the "green plant" too, it's time to make some changes.  Pet-parents, WE ARE THE CULPRITS of our overweight pets, and we need to take accountability.  The first step is to put your pet on a diet designed to reduce and/or maintain your beloved fur-child's weight.  Hill's Science Plan Perfect Weight for Dogs and Hill's Science Plan Perfect Weight for Cats provides a breakthrough blend of natural ingredients to help your pet burn calories and prevent excess energy from being stored as fat. 
The Hill's Science Plan Perfect Weight diet is formulated to be super tasty and incredibly satisfying. Your little buddy will not feel any deprivation or hunger pangs.  Important, stick to Hill's recommended portion sizes.  This might be stating the obvious, but no treats or table scraps in between!  Keep strong; you can do it! Hill's suggest a slow transition onto the new diet.  When transitioning your pet onto their new food, be sure to introduce it slowly over 7 days to avoid upset tummies and for better acceptance.  For fussy or older pets, extend the transition period to 4 weeks or more.
Click here to order Hill's Science Plan Perfect Weight for Cats
Click here to order Hill's Science Plan Perfect Weight for Dogs 
VISIT THE VET
If you feel your pet's obesity is out of control or your fur child might be in imminent danger, book a consultation with your vet as soon as possible.  Your vet will be able to perform tests and bloodwork (if required) to determine if there are any underlying health conditions that require treatment.  Obesity may result in many serious health risks, and a consultation with a vet is never a bad idea. 
Author: Jodi Troskie
Do you have a "fat-cat" or "round-hound" story?  Share it here in the comments section.
---