Help! My Dog Is A Fussy Eater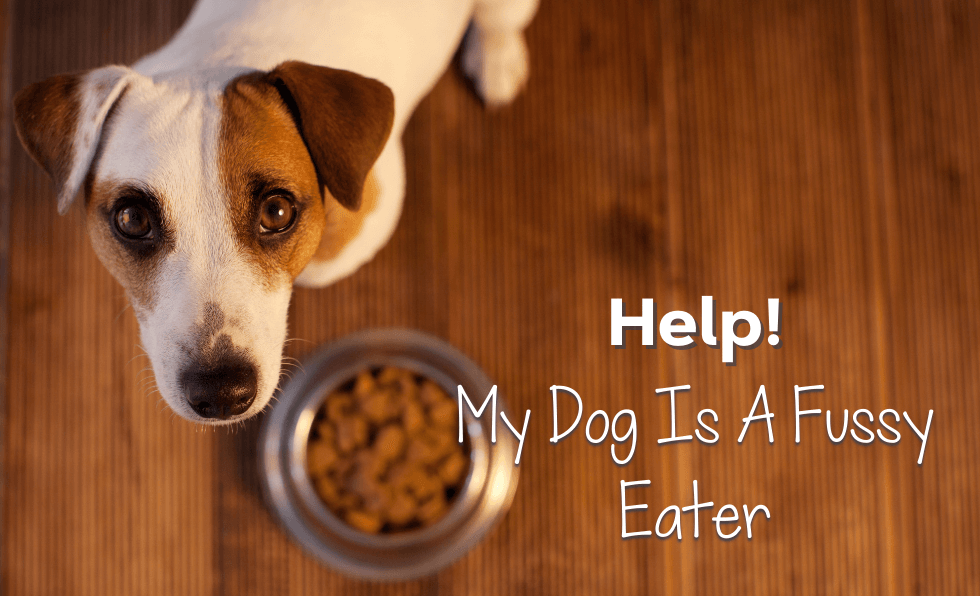 Is your royal doggo sticking their nose up at any dog food you put down in front of them?  It might be time to accept that you have a fusspot dawg on your hands. 
Understanding the cause of fussy eating and what you can do to change this behaviour is your first step.  Get your finicky fluff-ball back on a doggalicious, nutrient-rich diet in no time.
YOUR DOG DOES NOT NEED VARIETY
STOP FEEDING TABLE-SCRAPS AND TREATS
GOOD FUR-PARENTING CHECKLIST FOR FUSSY EATERS
DO A DOGGY BMI CHECK
UNDERLYING HEALTH CONDITION OR ILLNESS
YOUR DOG DOES NOT NEED VARIETY
Firstly, let's bust this myth. Your bark-fuzzer does NOT need variety.  As humans, we expect our pups to get bored of the same food day after day, after day …  not true! Dogs are descended from keen hunters and are accustomed to eating what they can get.  Picky eating is not a natural dog behaviour.  Humans train their dogs to be fussy eaters.  The key is not to offer variety but to find tasty, nutritious food that they enjoy.  Switching your fur-angel's diet out too often and being inconsistent can really upset their tummies.  Get them on a palatable, healthy dog-food diet developed by a reputable dog food manufacturer and stick to your guns.
STOP FEEDING TABLE-SCRAPS AND TREATS
Finicky eaters are enabled by table-scraps.  If you find yourself putting tasty left-over scraps in a dog bowl, you're AN ENABLER. Yes, we said it! If your fur-child is hungry, then he or she will eat their dog food, and if they're not, they won't.  If your floof is not hungry but clocks a bowl of chicken scraps in his bowl, he will eat the chicken. Table scraps and 'hooman-food' will lead to taste preferences that result in a nutrient-deficient diet. Liken this to a toddler who has eaten a full meal. Still, you offer them some chocolate. The toddler will more than likely scoff the chocolate without a moment's hesitation, despite being full.  Just as a toddler learns that chocolate is way tastier than broccoli and will hold out for chocolate instead of a healthy meal, the same rings true for your fur-children.  Consistently 'rewarding' fussy behaviour with more scrumptious food substitutes will reinforce picky eating.  Your fur-angel learns that if he waits long enough and holds out, a tastier bowl of sumin-sumin' is a-comin'.  Dog treats are a great way to reward good behaviour or simply spoil your pup. However, if your dog starts turning his nose up at his regular food, then try to limit or eliminate treats for a while to correct this behaviour. 
GOOD FUR-PARENTING CHECKLIST FOR FUSSY EATERS
Ensure you provide good quality dog food from a reputable dog food manufacturer. If you are currently buying dog food off-the-shelf at your local supermarket, consider switching to a more premium diet, such as Hill's Science Plan. When switching out your doggo's diet, gradually decrease the amount of the old dog food while proportionately increasing the amount of new dog food.
Stop offering substitute foods if your dog won't eat his own food.
Leave your dog's food out for 30 min.

 

If the food isn't eaten, take it away until the next mealtime. 
When it's your pup's next mealtime, set the food out again and take it away after 30 min whether it is eaten or not. 
After a few days, your pooch will start to feel hungry and give you his best soulful, irresistible puppy eyes to coax you into giving him a treat.

 

This is a critical point, DON'T CAVE!

 

This is when you need to be strong.

 

Your dog is NOT starving.

 

If your dog is hungry at this point, he will gobble up regular dog food at feeding time.
Note: This approach works best with dry kibble. If you feed your pooch wet canned food, it is best to discard what is not eaten to prevent illness from spoiled food.

 

To prevent wastage, offer smaller portions until your handsome hound eats the food provided.
It is completely normal for your heart to well up inside, and you may feel as if you've disappointed your paw-child.  It's not easy to ignore that pleading, innocent, gorgeous little face … but keep strong!  You're doing this to ulti-muttly benefit your doggo after all.  A consistent, nutrient-rich diet is essential to your pooch-baby's well-being and health.  Table scraps and treats encourage finicky eating that lead to obesity and other health issues.  The best way to ensure your paw-some buddy gets all he needs is to feed him high-quality dog food and to be consistent with feeding times and portion sizes.
DO A DOGGY BMI CHECK
If you are worried that your dog is not eating anything or eating very little, take your fur-babe to the vet and ask them to do a doggy BMI.  Have the vet determine if your dog is overweight, under-weight, or within range.  This knowledge will aid you in determining portion sizes and feeding times.  Ask your vet about a prescription diet if necessary and get that BMI under control. If your doggo is overweight, look at reducing portion sizes, feeding times, and limiting those treats between meals.  If your dog is underweight, consider a better-quality dog food that provides a higher number of calories per serving.
UNDERLYING HEALTH CONDITION OR ILLNESS
Suppose your dog is not eating due to illness. In that case, picky eating will usually present abruptly as opposed to habitual, ongoing 'fussiness'.  If your furry companion is usually a good eater but suddenly stops eating altogether, then schedule a visit to the vet immediately.  Dogs will usually fast when they're not feeling well, a good indication that something is not right.  Ensure your doggo consumes water to prevent dehydration if he or she is not eating. If you suspect your pup is not getting enough water, then a good tip is to draw a bit of water into a syringe. Using the syringe, slowly dispense water to your fur-angel through the corner of his or her mouth every 1 - 2 hours.
---