10 Celebs who love their pets, and we love them for it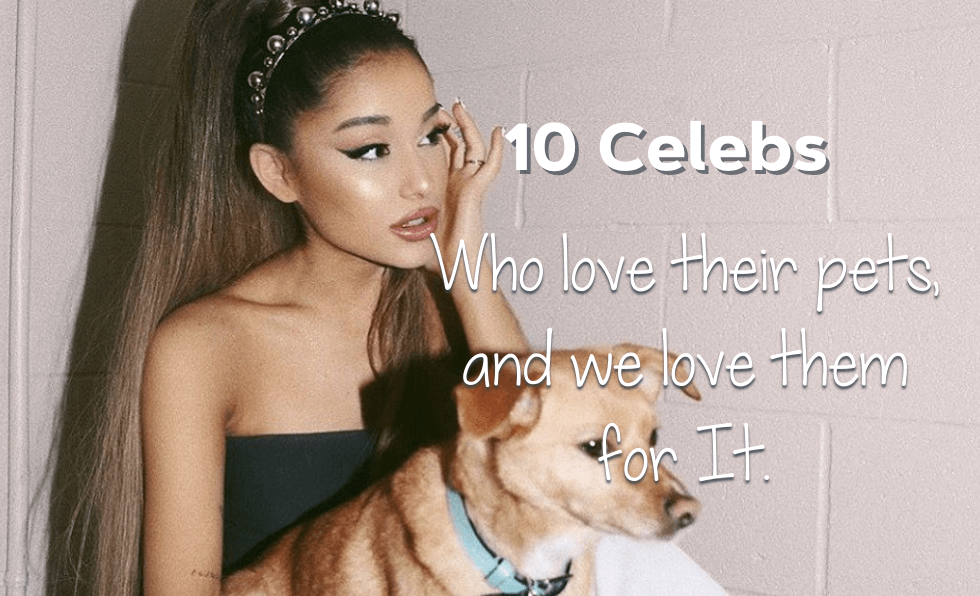 When a star-studded celebrity shows kindness and love for animals, it just makes them all the more lovable.  Here are our top ten celebrities worthy of a mention for rightfully adoring and cherishing their furry companions.
Ricky Gervais and his cat, Pickle
Known for his blunt hilarity, English actor and comedian Ricky Gervais and his partner, Jane, decided to foster a moggy named Pickle during lockdown but accidentally fell in love with her and are keeping her forever. Ricky's Instagram feed has been taken over by "Pickle-posts", beautifully and hilariously capturing the capacity of love between a man and his cat.
 Taylor Swift and her three cats aptly named Meredith Grey, Olivia Benson and Benjamin Button
A well-known cat-lover, Swift has gone so far as to include the furry felines in her cameo of "ME!" and passionately refers to Meredith and Olivia as "our daughters" in the music video with Brandon Urie. Later on in the same music video, Urie presents the irresistible Benjamin Button who is portrayed as the key to unlocking Taylor's heart. Not surprisingly, Benjamin Button was 'swift-ly' adopted on set when Tay-Tay fell head over paws for the adorable feline in about 2 seconds flat.
Kaley Cuoco and her many, many 4-legged kids
An advocate for #adoptdontshop, Big-Bang-Bombshell, Kaley is passionate about animals and is quite the accomplished horse-shower along with her husband Karl Cook, follow their anecdotal journey on Insta @kaleycuoco. Cuoco sadly announced the passing her beloved pit bull mix, Norman, in a heart-breaking post where a picture of the star saying goodbye to her long-time companion was captured.  After Norman's passing, Kaley named her production company, Yes, Norman Productions, in his namesake.  We're not crying, you're crying!
Reese Witherspoon and her Minnie Pearl
Reese Witherspoon is a self-proclaimed animal-lover and we can't get enough of her newly adopted little French Bulldog, Minnie Pearl, who apparently loves watching #TheCrown and chewing on the hallway rug.  Miss Minnie Pearl has nailed the "over-the-shoulder" look and Reese has officially claimed #stagemom status.  There's a movie plot in there somewhere. Witherspoon is also dog-mom to two other lovely pooches, Hank and Lou.   
Michael Phelps and his fur-children Juno and Legend
Jet-setting with the family (fur children included … obvs), arguably the most decorated Olympian of all time, Michael Phelps @m_phelps00, and his family consider Juno and Legend big sister & brother to their human brothers @boomerrphelps & @beckettrphelps. Indulge in cuteness-overload and follow the paw-celebrities @msjunoandlegend.
 Robert Downey Jr. is..er.. "Cat-Man"
It's tough to imagine The Iron Man star fawning all over his cats but believe it … beneath the tough Iron Suit is a soft, squishy and cuddly …"Cat-Man".  The marvel star is quoted as saying: "To understand the way cats play and fight is to understand the secrets of the universe. It's to understand Wing Chun, to understand the palace tradition, to understand yoga. I would kill for these young, sweet little feline souls, these two boys. I would protect them with my life" (via SheKnows).  Just when we thought we couldn't love RDJn more … *swoon*.
 Tom Holland with his Staffordshire Bull Terrier, Tessa
Another marvel star to make the list of celebrities who are paw-obsessed is Tom Holland. Best known for his portrayal as young Spider Man, Tom is often spotted on and off set with his blue-coated dream-dog, Tess. Tom is absolutely obsessed with Tess… and so are we.  When Tess is not on set, Tom is face-timing her to make sure "she" doesn't get separation anxiety.  You're not fooling anyone, Tom – we know you're the one who can't stand being away from Tess.  So needy, Tom.
Katherine Heigl and her fight to end needless animal cruelty
The Grey's Anatomy star is a fanatical animal lover and advocate for animal rights.  Heigl has opened up her heart and home to create a safe haven for rescued dogs and through the organization, Jason Debus Heigl Foundation, has rescued hundreds of animals from kill shelters and helped connect them to good homes.  The foundation was founded by Katherine and her mother, Nancy, and dedicated to Heigl's late brother, Jason, who lived his short life extending compassion, kindness and love to all animals. 
Ariana Grande launches Orange Twins Rescue Center and Toulouse makes Vogue cover page
Ariana's angelic voice and astounding beauty are only trumped by her love and empathy for animals.  Grande announced in 2020 that she would launching the Orange Twins Rescue Center, a non-profit animal rescue center located in Los Angeles. Grande keeps herself surrounded by an entourage of dogs, including Toulouse who adorably made his debut on the "Thank U, Next" music video and took the spotlight on the cover of Vogue in August 2019.  "Hold my drink, Ariana … Toulouse's in the house ".
Olivia Munn is a pawsome paw-mom
@olivamunn will brighten your day with her witty one-liners on Instagram. Munn documents snippits of her life as a paw-mom and we can't get enough.  Munn has worked with PETA to protest abusive circuses, expose the disturbing practices of the fur industry and raise awareness to the neglect that occurs at marine parks.  If you're not already in love with this gem of a human and her gorgeous pups, then we're sad to say you might be living under a rock.
Do you know of any other celebrities who love their pets? Let us know in the comments below!
---