Top Tips to Keep Your Pets Happy While You Are at Work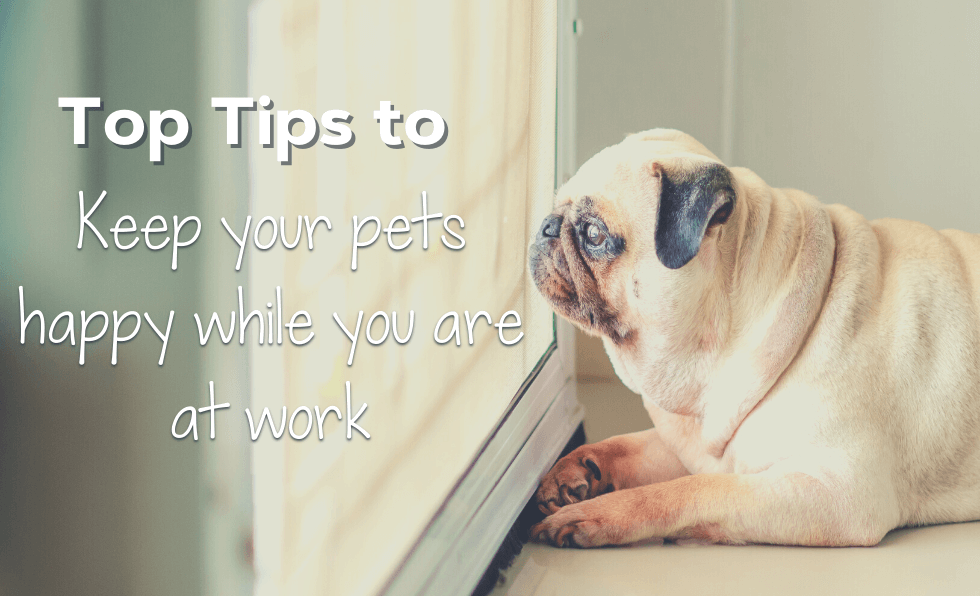 Life is busy for everybody. From getting up in the morning to getting your family up and ready for the day, the full-time daily grind, after-school activities and family time in the evenings, your day can end up being pretty packed. This probably leaves little time for your beloved pooch who sits at home patiently waiting for you to get home to smother them with attention. 
Even though COVID-19 drove everyone home, much to the delight of pets all over the world, life has started somewhat returning back to normal. Suddenly, Milo who has gotten used to unexpected hours of playtime with house-bound owners, has had to acclimatize to the family leaving for the day again.
So, what can you do to keep your pets busy during the day while you make money to keep the roof over your head? What are the steps that you can take to keep your pet happy and loved while you are at work? We took a look. 
Get Them New Toys 
The trick is to keep your furbabies busy and distracted during working hours. Dogs sleep for an average of 12 to 14 hours a day, while cats sleep for around 12 to 16 hours. In between this dozing, they will need toys and accessories to keep them occupied and busy. 
From plush toys, to ropes and balls and sticks, giving them a variety to play with will provide a couple of hours of fun while you are out. You can also invest in interactive toys which provide treats and food when and if they interact with it. Luckily it is controlled, so you don't need to worry too much about ballooning weight if you control the portions. 
We haven't really mentioned cats, because they are such independent creatures anyway. But there are hundreds of toys for when you are out and while they are awake and not terrorizing the neighbourhood. Again, interactive toys, chasers, balls and wands will all go down a treat for your furry ball of energy. 
Enroll them in Doggy Daycare
This is a great solution for pooches left on their own for hours while their owners are at work. Dogs are dropped off in the morning at these interactive doggy hotels where they are provided with a day's of activity, attention and care. 
There are a variety of daycares available, with various options to choose from. You can choose the more luxurious option for pampered pooches where your dog is treated daily grooming, training, exercise, nap-time and supervised socializing with other furry friends. Let's not forget the high-quality dog food that they will receive. 
This might seem like quite an extreme option for your dog, and your budget would rather steer you to pay the electrical bill at the end of the month. However, you can pick days in the month to treat your dog to a day out to break up the mundane days while you are at work. 
Get in Some Extra Help 
Is your dog not really the "get along with other dogs" type? Some pets are certainly more comfortable with being in their own environment.
Why don't you look at getting someone in to spend some time with your doggo while you are out? Dog-walkers are a great option for busy working folk to pick your dog up during the day and take them for long walks in the great outdoors. Their days will be broken up with fresh air, exercise and a bit of socializing with other dogs. 
You can also look into hiring dog sitters for the day. Make sure you properly vet the person coming into your home first, but there are always unemployed people looking for some extra cash during the day. Whether it be a student who can work and watch your pup at the same time, or a retiree looking for a change of scenery, put your feelers out to hire the right person. 
Allow Them Space to Interact With the Outdoors
Most pets are used to keeping themselves busy during the day in between naps, especially if they have an outdoor space to live in. If you have a backyard or any kind of outdoor area, allow your dog access to it, and you will notice that they can keep themselves occupied for hours. 
Keep the area clean, safe and enclosed for your furfamily to roam freely without opportunity to escape. Do not chain up your dog for hours while you are away if you have an open space. Rather allow them a secure space to play and roam freely. 
If you do live in an apartment, make sure your fur baby has access to fresh air, windows to the outside world and a comfy place to sit to watch the world. It is important, especially for these pets to have a set routine of exercise when you are home. Walk your dog first thing in the morning and when you get home, so they get their daily dose of exercise and stimulation. 
Get Them Company 
Having a fur-buddy is a great distraction for any animal. Not only are the animals prompted to socialize with each other, but they can form deep bonds. With another doggy or cat around, your dog will be provided with hours of playtime and company while you are not able to provide them with the endless cuddles and kisses they need. 
Before you just jump into this decision, take a number of things into consideration. Do you have the budget for another pet? Do you have space? Will you be able to give another animal as much attention? You will need to ensure that both are sterilized (although that should be a given), and you will need to take time to integrate the two together.
Having more than one pet, however, is like having more than one child. It is a lot more work and more expensive, but the benefits far outweigh having an only-dog. When you adopt your first, take into consideration immediately adopting a brother or sister. In this way, you can ensure that they adapt to their surroundings together, no individual territory is established and they form a bond from the start. 
Last Thoughts
The main thing to owning a pet is to keep them as happy, stimulated and healthy as possible. Whether you are working from home or still travelling to your work, ensure that you have enough resources to make sure that they are kept company while you are away . 
---