10 Must-Have Gadgets For Your Pet
by

Bold Commerce Collaborator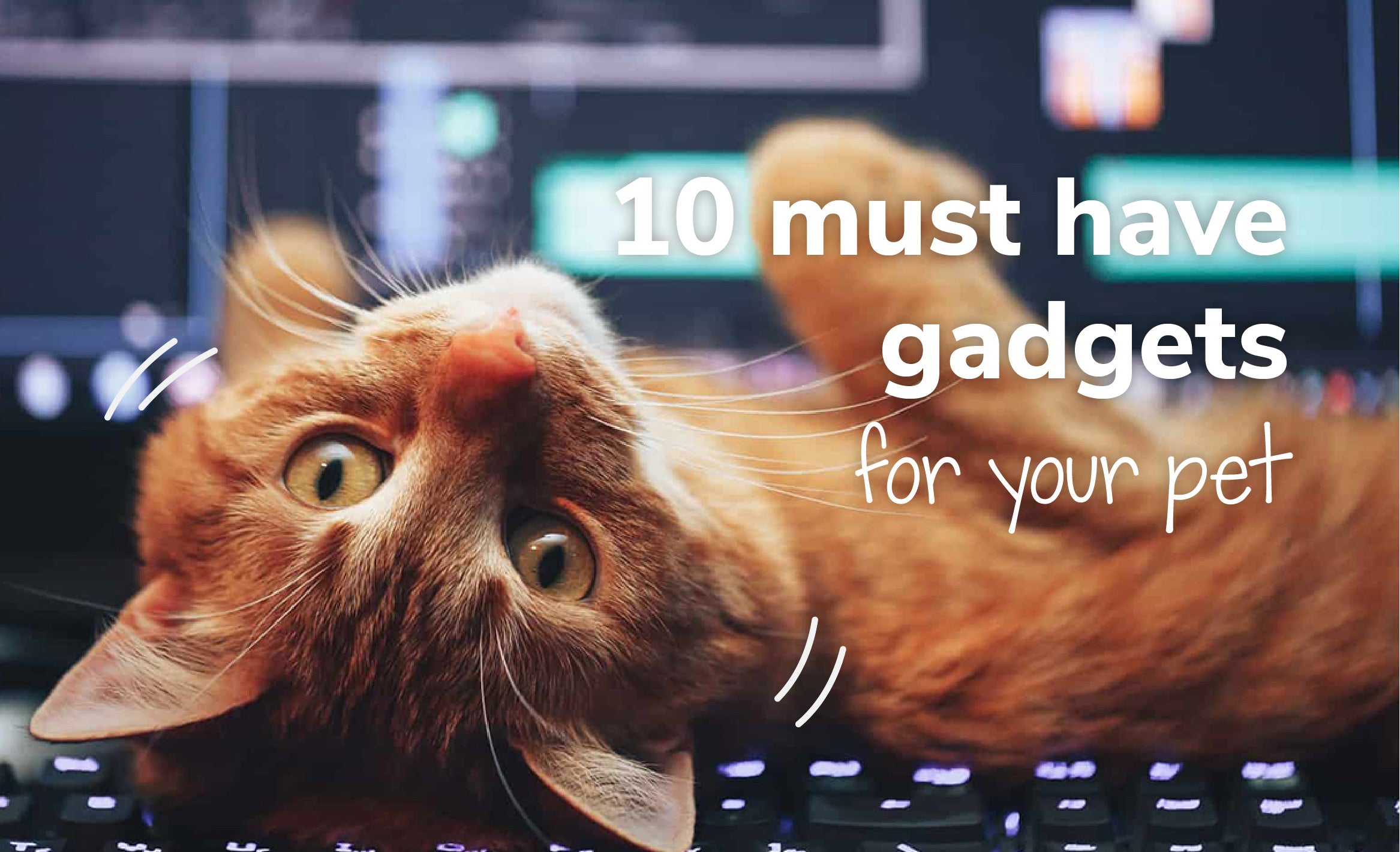 As a pet parent, you're always looking for ways to spoil your four-legged friend, and, with your busy schedule, you might even feel guilty for not spending enough time or money in spoiling them. So, ZUKi has put together a list of 10 must-have products that will make your life just that little bit easier, and make your fur babies a whole lot happier.
Items For Dogs
Here are some of our must-have items for your dog.
Moderna Smart Sipper 
What is it? 
The Moderna Smart Sipper is the perfect way to keep your dog's water nice and fresh throughout the day. Made from quality plastic, you can rest assured that your pooch will get plenty of safe drinking water, at any time of day or night. 
Why we love it: 
With its easy-to-fill water containers, the bowl will automatically be refilled as your pooch drinks. It also features rubber on all sides, to avoid skidding and splashing water all over your floor.
Fun Feeder Purple Dog Bowl 
What is it? 
The Fun Feeder Purple Dog Bowl is a great way to make a splash during mealtime. Naturally, dogs tend to play with their food, and its maze design will keep your dog entertained while increasing mealtime by up to ten times the average! And, with its non-slip base, less of your pup's food will end up on the floor. Furthermore, the bowl is dishwasher friendly, minimising your clean up time!
Why we love it: 
Apart from keeping your pup entertained, it's a great way to prevent bloating, regurgitation, and obesity, as it encourages your pet to eat slower.
L'chic Snack Puzzler
What is it? 
The L'chic Snack Puzzler is a great way to keep both your cats and dogs entertained, serving as both a treat dispenser and a slow feeder. By inserting a treat inside the ball, then placing it in the chamber, the ball will spin inside the collar before being released from one of the many outlets.
Why we love it: 
It's an enjoyable way to entertain your pet and make them feel rewarded for their hard work! It also provides excellent stimulation for your pet's cognitive functions.
Catch & Flash Ball
What is it? 
The Catch & Flash ball is a great way to make your dog go wild! Its multicoloured facets will light up upon impact, making this a great toy to keep them entertained for hours.
Why do we love it: 
Not only is this the perfect toy for your dog to play with at night, but it will also keep your pet stimulated and engaged.
Rosewood Chillax Cooling Harness 
What is it? 
The Rosewood Chillax Cooling Harness is the perfect accessory for your dog on a hot summer day! Its removable gel pouches automatically recharge after small periods of inactivity, so your pet will get endless use out of it.
Why we love it: 
This is a must-have if you and your dog like to get active in summer, as it will help prevent your dog from overheating on a hot day.
Rosewood Easy To Pick Up Waste Scooper
The Rosewood Waste Scooper is perfect for picking up waste of all types and sizes. With its built-in plastic dispenser, all you have to do is expand the handles to accommodate the size of your pup's mess, and voila! 
Why we love it: 
Not only does this waste dispenser make the cleanup process a whole lot easier, but it's also the best gadget to use on holidays and walks; with its small size making it a perfect carry-on.
Items For Cats
Here are some of our must have items for your cats.
Petstages Cheese Chase
What is it? 
The Petstages Cheese Chase is a fantastic toy for your cat to hone its natural hunting instincts. Just because your cat lives indoors and is domesticated, it doesn't mean that they don't feel those urges to pounce, bat, and hunt, and this toy is perfect for sharpening those skills!
Why we love it: 
It's a great way to keep your kitty busy. Plus, it's suitable for cats of all ages, making playtime more exciting for everyone from the feistiest kittens to the most seasoned old hunters.
Moderna Mega Comfy Cat Litter Box
What is it? 
The Moderna Mega Comfy Cat Litter Box is a perfect litter box for cats of all ages and sizes. With its semi-opaque plastic door, your kitty will always have the privacy they need to do their business with dignity. 
Why we love it: 
There are many reasons why this is the perfect addition to your home, and this litter box is definitely a must-have. Not only does it include extra trays to reduce your cats' scatterings, but it also features a charcoal filter to reduce odours.
Round Cozy Cat Cave
What is it?  
The Round Cozy Cat Cave is a perfect addition to your home decor. The cat bed contains soft inner fabric to help your cat relax and keep warm. And it really is the purrfect place for your cat to enjoy their privacy. 
Why we love it: 
Chic and versatile, the cave can also be reshaped into an oval by pushing the entrance down, giving your cat that little extra space.
Petstages Peekin Pals
What is it? 
The Petstages Peeking Pals is a three-in-one cat scratcher that will blow your cat's mind! With its intelligent design, your cat will be able to enhance their natural instincts and test their cognitive abilities.
Why we love it: 
The toy includes three different elements to keep your cat engaged: 
What a mouse: mimicking a famous arcade game, bobbing mice will reveal your cat's natural response to pounce, jump, hunt, and swat this interactive toy.

Catnip Blasted: Blasting your cat with catnip will draw your kitty back into the game.

Scratch & Hunt: The holes will help satisfy your cats hunting behaviour while blasting them with catnip. All of this will encourage your cats grooming and help develop healthy scratching habits.  
And there you have it; these must-have gadgets will not only make your life a little easier, but they'll make your pet feel a whole lot happier, healthier, and loved!
---