Dog Friendly Locations In Centurion
by

Bold Commerce Collaborator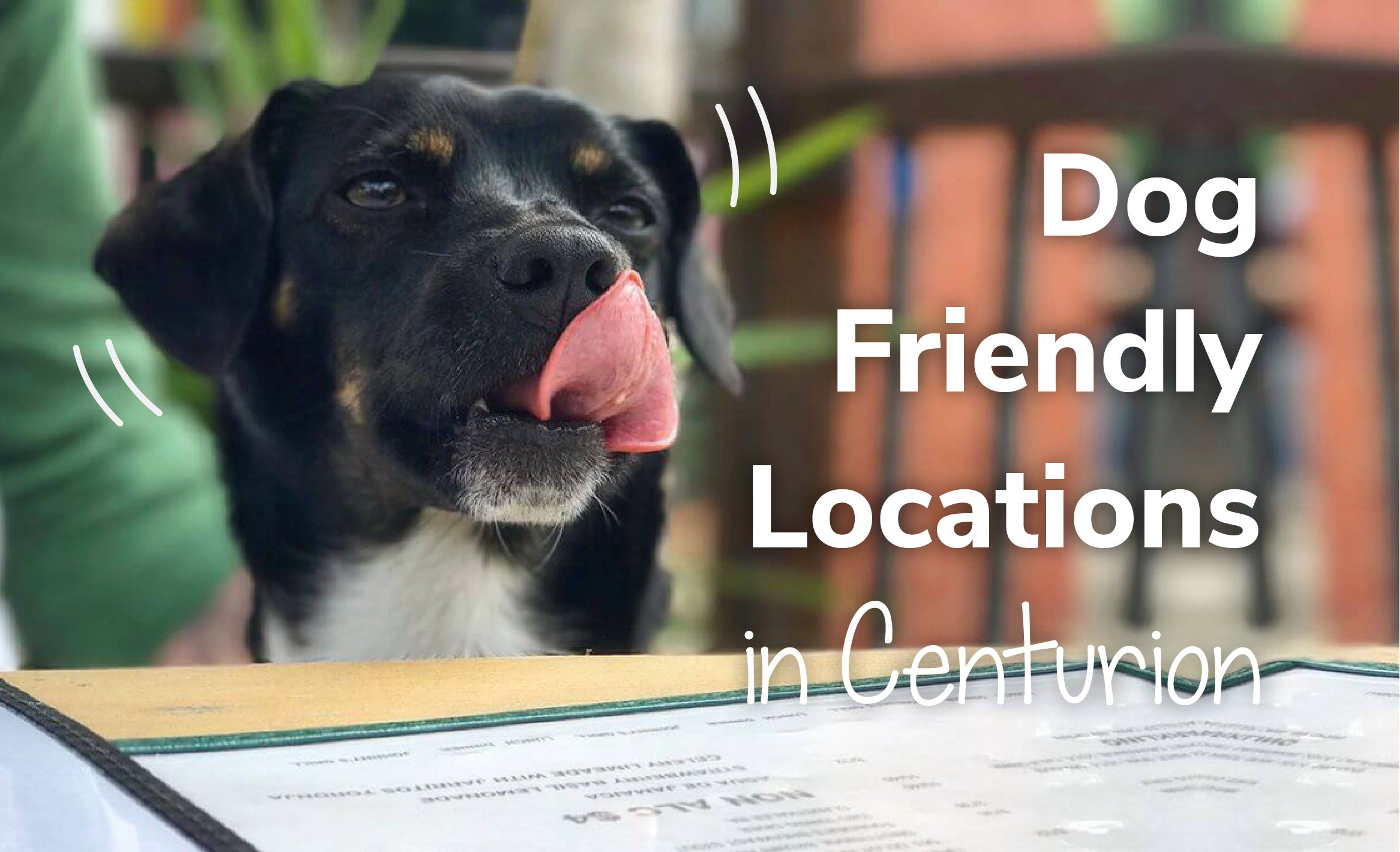 As our Lockdown restrictions begin easing up, you and your pooch are probably itching to get out and about again! 
So, when you do decide to venture out, why not make restaurants and parks a family affair by taking your four-legged friend along with you? Taking your dog on an outing is a great way to allow them to burn some of that pent up energy, while ensuring you both get some quality bonding time outside the confines of your living space.
Here are a few of our favourite, pet-friendly places you can take your best buddy in Jozi.
Outdoors
Walkhaven Dog Park 
Close to the Cradle Of Humankind, Walkhaven dog park is a great spot to enjoy the day with your pooch. With 22 hectares of grassland, your little bundle of energy can run wild and play with the other dogs in the park. And, on a hot summer day, your dogs can enjoy a refreshing dip in the water while you relax in the sun. 
But Walkhaven isn't just a perfect place for your pooch; it also offers a cafe where you can grab a drink or a bite to eat while your pup plays in the gardens.
And, if you are ever looking for a place to celebrate your best friend's birthday, check out Walkhaven's party venue, where your dog and their furry friends can play in a closed-off area away from the main park. 
Open seven days a week, with an entry fee of just R40 per person; Walkhaven is a pup's paradise!
Huddle Park Golf & Recreation 
With a sprawling golf course, walking trails, and restaurants; this is the trifecta of outdoor hotspots! Huddle Park Golf & Recreation has trails starting from 2.5km and going up to 5km, and their newly-established routes are an excellent way for you and your pooch to rack up those steps!
In this tranquil location, all dogs must be on a leash until they're in the dog park; a closed-off area next to the golf course, where your dogs can then run free and socialise.
Open seven days a week, with an entry fee of R50 per adult, pop in for a perfect day under the sun with your pup!
Paws In The East 
Paws in the East is the perfect location for you and your pup to get out there and socialise. Seven hectares of untouched wilderness make this an ideal spot to book for a picnic, braai, or small parties and events, while your dog has a chance to run around off the leash. Paws in the East's trails are also an excellent way for you and your four-legged friend to stroll through nature while breathing in some fresh air. And, with shaded areas, water points, and trails, this is an unbeatable park for both humans and pets. 
To top it off, you can grab a great cup of coffee in the dog deli, with it's inviting, farm-like atmosphere, while your pooch gets pampered with water and some tasty treats!
Open Saturdays and Sundays, with an entry fee of R40 per adult, spoil your pet with a pleasant picnic and vigorous hike at Paws in the East. 
Restaurants
44 Stanley 
There's no denying that 44 Stanley is the go-to spot to be seen in Joburg. This chic and alternative location offers fantastic cafes with small, handcrafted shops. And the best part of it all is that your dog is always welcome! Bring your pooch to 44 Stanley to enjoy an excellent breakfast or brunch and stroll through their shops for a little retail therapy. 
This is a definite must for anyone looking for a trendy, fido-friendly hangout spot.
Milk Bar 
It's Friday night, and you want to enjoy a well-deserved drink with your friends, but your poor pup is begging you not to go? Well, why not take him with you? The Milk Bar is a popular, pet-friendly restaurant and bar, where your pooch can join your night out to soak up the energy and attention, while you sip on an ice-cold beer!
Hell's Kitchen 
Hell's Kitchen is any rocking dog owner's perfect party spot! If you're looking for a little live music (on weekends), beers, cocktails and unbeatable burgers, this is the only place to be. Plus, you don't have to worry about leaving your best buddy at home; bring them along to enjoy the music and rockin' vibes; dogs are always welcome in Hell's Kitchen!
So, now that you're up-to-speed with the top spots to take your top-dog on the weekend, you can include your bestie in all your plans, to make sure you both get the bonding time you both deserve, without being cooped up at home! 
We'd also love to hear which other places you and your pooch love visiting together, so leave us a comment with some of your favourite spots!
---