8 Great reasons to pick a rescue pet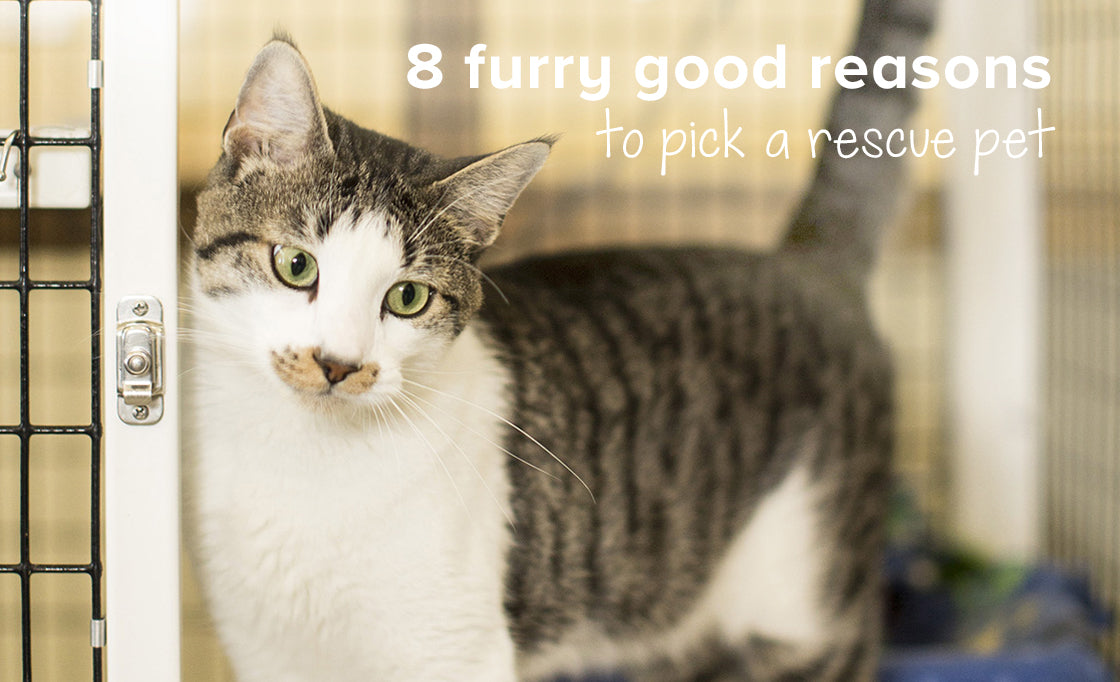 About to add a(nother) furbaby to your family? Before you pick your perfect pet, why not consider visiting your local shelter? 'Adopt don't shop' is a phrase we're hearing more and more, and for good reason: the number of animals needing homes is continuing to soar.
Shelters are a great place to find your next furbaby: there's a wide selection of animals to choose from, and you're virtually guaranteed to find one (or more!) that you'll fall in love with. Plus, shelters are usually committed to helping people choose the right pet to fit in with their families and lifestyles - after all, they want it to work out as much as you do. This means that you'll get excellent advice and guidance when selecting your new furbaby.
Here are a few more of the many benefits of picking a rescue pet.
8 benefits of adopting a shelter animal
You're saving a life

. While there are plenty of no-kill rescue centres, there are many that do euthanise animals because they have neither the space nor the resources to keep animals indefinitely. By adopting an animal from a rescue organisation, you may be saving its life – and you'll also be helping to make room for another animal to enter the shelter and potentially find its own happy ending too.
You're more likely to adopt healthy animal

. Shelter pets are vaccinated, well cared for and screened for illnesses and diseases. Breeders often don't have to do any of these screenings, so you can't be certain that you're buying a healthy animal.  
Shelter pets may be trained

. Many shelters ensure that their pups go to obedience classes, which means that you'll be adopting a well-socialised animal, rather than a completely untrained puppy that you'll need to school from scratch.
You don't have to give up on your 'pedigree' dream.

Because there's such a massive number of animals at shelters, you can find almost any pet you can imagine, from daschunds and great danes to devon rexes and everyday domestic short-hairs - and everything in between! If you can't find the type of animal you're looking for at your neighbourhood shelter, look online for rescue groups dedicated to the breed you're wanting.
You're helping to stamp out illegal breeding.

Adopting from shelters helps to reduce the demand for 'puppy mills' and backyard breeders. Puppy mills will exist as long as there is a demand for 'thoroughbred' puppies. We say 'thoroughbred' because these unlicensed breeders are only concerned about making a quick buck, and you may find that the puppies are not in fact purebreds at all. Buying thoroughbred animals feeds this industry and keeps it alive. Most pets that you find at pet shops come from puppy mills, and dogs are bred under terrible and often inhumane conditions.
Rescues are more affordable to adopt

. Purebred cats and dogs can cost thousands of rands, and that's before you've sterilised and microchipped them. Shelter animals are sterilised when you adopt them, often microchipped, and the adoption fee is a fraction of what it costs to buy a pedigreed pet - plus your cash is going to a great cause.
It's less work.

If you adopt an adult cat or dog, particularly one that's already used to living with people and other animals, you may be in for a lot less hassle. Puppies can feel like almost as much work as human babies, while kittens are notorious late-night-toe-attackers! If you're not up for sleepless nights, toilet training and the immense energy levels of a baby animal, adopting a teenage or adult pet is the perfect solution.
Shelters can actually be happy places

. Depressing shelters of years gone by are largely a thing of the past. Nowadays, shelters are often cheerful places full of hope - and huge amounts of furry energy! From outdoor adoption days to pop-up shelters in public spaces, animal rescue organisations are going to great lengths to create happy environments so that their animals are happy, well-adjusted and ready for your family.
If this is your first time adopting a rescue pet and you aren't sure where to start, ask friends, family or your vet to recommend shelters in your area. You can also search online for organisations near you.
Enjoy your journey of finding the perfect furbaby for your family, and be sure to check out our articles on cat health and dog care.
Disclaimer: Always consult your vet for professional advice. The Zuki.co.za blog is provided as an educational tool and should not be used to diagnose illness or treat an animal.
---