Buy IAMS pet food online in South Africa | Order pet food online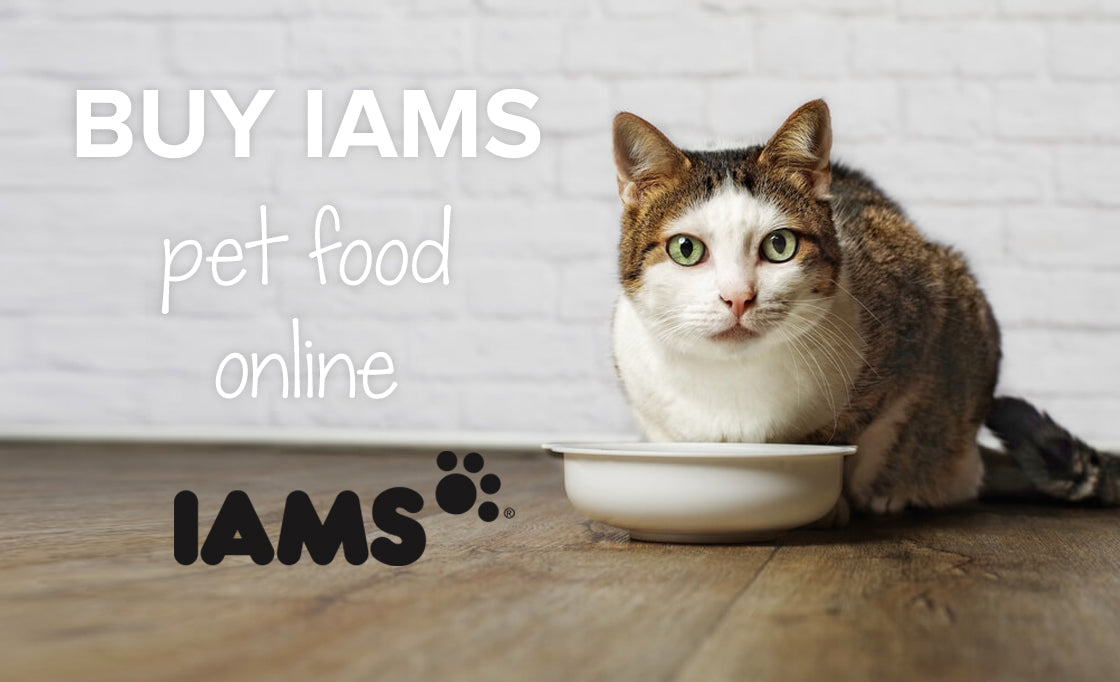 IAMS pet food is one of South Africa's furr-vourite pet food brands and for good reason: it's been around since the 1950s, and it was the first pet food brand to use animal-based protein as the primary protein source in pet food. As a trusted and wholesome source of nutrition for pets, it's no wonder that IAMS is the first choice for many fur-parents across SA.
If you're one of them, you'll be thrilled to know that getting your paws on IAMS pet food is now easier than ever, thanks to Zuki.co.za. Our super efficient, super convenient pet food delivery service brings IAMS to your door anywhere in South Africa. And of course, we also stock a wide range of other pet essentials, like flea and tick control, treats, toys, meds and more. 
Sign up for a scheduled delivery, and not only will you get your favourite products delivered to your door exactly when you want them, but you'll also get up to 15% off every order. Find out more at the end of the article, or skip straight to the good stuff and start shopping now.
Did you know? The right pet food can bring out the best in your pet 
The people at IAMS believe that the right food can do amazing things for your pets, from supporting their immune systems to helping them burn fat, maintain muscle tone and promote healthy digestion. The right food can even help support your pet's dental health. That's right - quality food can assist in keeping the teeth clean and the mouth in good, healthy condition. And when it's a product like IAMS, the added bonus is that it's all in a delicious recipe that your furbabies will love. 
According to IAMS, good pet food should be:
Made from real animal protein to adequately meet the nutritional needs of dogs and cats.

Customised to animals' specific needs at different stages of life. For example, IAMS puppy food can actually help to make puppies smarter and more trainable. 

Beneficial to both pets and their owners - for example, food tailored to multi-cat households, or food that assists with hairball control. 
IAMS is committed to quality at every step, which means that only the best ingredients are used in every bag, sachet and bite of pet food - and every bowl offers a nutritious, delicious meal that is healthy and safe for your pets. You can rest assured that the food you're feeding your beloved furbaby is wholesome and good for them.  
IAMS pet food: tailored nutrition to keep pets happy and healthy for life
There's an ideal type of IAMS nutrition tailored to suit your pet, based on his age, breed or particular need, and IAMS has a mouth-watering option for each of these. 
There are a number of key ingredients included in different types of IAMS pet food, each of which has been chosen for the nutritional benefits it offers to pets. These ingredients include:
Beet pulp, which is an excellent source of fibre, and helps to maintain your pet's intestinal health and ability to absorb important ingredients. Beet pulp is what remains once all the sugar has been extracted from sugar beets. 
Chicken, a superb source of animal protein that can help to maintain your pet's muscle structure. Chicken also naturally provides all of the amino acids that are essential to carnivorous animals like cats and dogs. Plus, it's great for flavour, too.
Corn. According to scientific studies, a combination of carbohydrates in an animal's diet (such as corn meal) offer optimal digestibility which helps to maintain your pet's energy levels throughout the day. 
Fruits & veggies, which naturally contain antioxidants - key to helping protect against many kinds of diseases. Some of the most common and important antioxidants are vitamins A, C and E, and carotenoids (including beta-carotene), which are found in the fruits and vegetables used in IAMS food.
Salmon and ocean fish, which are packed with omega-3 fatty acids and essential vitamins. Research has shown that the fatty acids found in fish oils help to give pets a glossy, vibrant coat and healthy skin. 
Wheat, included as a high quality carbohydrate source in dry cat food, helps to give your furbaby sustained energy throughout her day. It also supports the processing characteristics for IAMS food. 
<embed brand video>
Get IAMS pet food delivered to your door, on your schedule
Thanks to Zuki.co.za, you don't have to make a special visit to the vet shop to stock up on your pet's favourite food. And, with our scheduled delivery option, you never need to worry about running out late at night, on a public holiday, or on a day when you just don't feel like putting on pants and leaving the house! 
Simply find your preferred pet products on our site, add them to your trolley, and select how often you'd like them delivered. From food to flea and tick treatment, treats, meds and more, you can get all your furbaby's must-haves delivered when you need them - weekly, monthly, or however often you like.
Go ahead - give it a try, and tick one more thing off your list. Set up your scheduled order, and we'll do the remembering while you spend extra time cuddling with your furkid. Best of all, you save up to 15% on all scheduled orders. If that isn't a reason to dive in, we don't know what is! Start shopping now.
---