Shop Eukanuba dog and cat food online | Pet food delivery South Africa
by

Bold Commerce Collaborator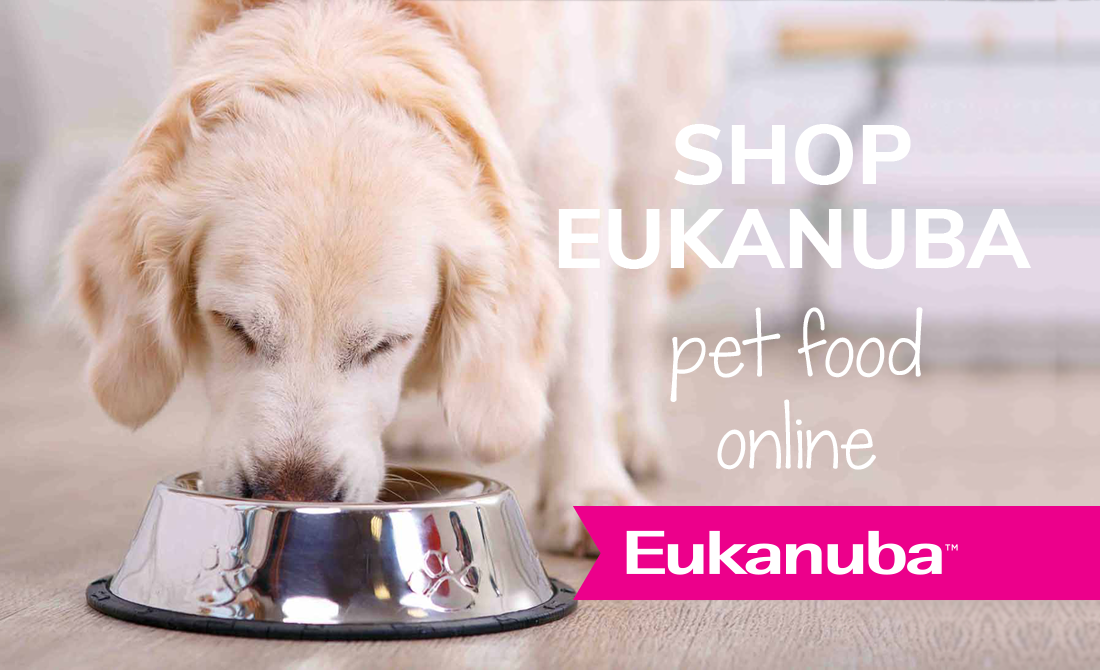 Eukanuba is one of the top South African pet food brands and it's easy to understand why. Not only is it affordable, but it's great for your pet's health too. So why not treat their tummies while making life a whole lot easier for you, and get all your Eukanuba food online at Zuki.co.za?
Not only do we deliver to your door, but we help you free up more time to play with Fido. There's no need to go in-store or heave heavy bags to your car. No queues - and no parking guards! Just the simplest way to get all your pet's must-haves affordably, and with zero hassle.
You can also set up a scheduled delivery, which ensures that your pet's food will arrive exactly when you need it. Choose weekly, monthly or however often you'd like to receive yours. Scroll to the end of the article for more info on Zuki's scheduled orders, or start shopping now to set up yours - and you'll save up to 15% on all recurring orders.
Eukanuba pet food is loved by pooches and owners alike - here's why
Eukanuba offers extraordinary nutrition that tastes great, too – which means your pooch will lap up every mouthful while getting their health needs met at the same time. What's not to love!
What makes Eukanuba such a smart choice for your furbaby? At the heart of their nutritional philosophy is the fact that dogs are carnivores, and should be fed accordingly. For this reason, only high quality, real animal proteins - usually lamb or chicken - are the primary source of protein in all Eukanuba's foods. It's meat, not vegetables, that your dog is wired to eat, and why Eukanuba food helps to bring out the best in your pet every day. 
Eukanuba believes that its contribution to nutritional science has helped millions of pets around the world to be in optimal shape, bringing out their very best. Its range of healthy food for dogs includes options for pets at all stages of life, and is tailored to dogs' specific sensitivities, activity levels and breed size.
Eukanuba has been producing quality dog food for over 60 years and in that time, its philosophy has not changed: Eukanuba believes in feeding dogs the way that nature intended, without ever compromising on quality. 
7 irresistibly good reasons to switch to Eukanuba puppy or adult dog nutrition
Eukanuba helps pets to look and feel their best at every age - and it's not by coincidence! The company's science-backed approach to pet food development means that every mouthful is benefitting your pet in a way that goes beyond merely filling her tummy. So, what do dogs get from each mouthful of Eukanuba? While it varies somewhat by the specific formulation of the product in question, here's a general overview of what your pooch enjoys with each bite.
Animal-based protein as the number one ingredient
Eukanuba foods are not stuffed with vegetables or cereals, or other additives that don't offer any nutritional advantage to your pet. High quality protein from animal sources is the primary ingredient in Eukanuba pet food.
Energy that lasts all day
The carbohydrates that are included in Eukanuba's formula are specifically selected and customised to ensure sustained energy for your pet throughout their day, and are tailored to their output level.
A healthier, cleaner mouth
Eukanuba foods help to clean your pet's teeth and promote fresh breath and healthy gums. Eukanuba is proven to reduce tartar build-up by an average of 46%. 
Healthy skin and coat
OmegaCoat, found in Eukanuba products, helps to promote a radiant coat in your pet, thanks to its optimal ratios of omega-6 and omega-3 fatty acids. 
Better digestion
Eukanuba contains natural fibre and a blend of prebiotics to help ensure that your pet maintains a healthy digestion and firm stools. 
Healthier bones and joints
Eukanuba products contain vital nutrients like calcium and omega fatty acids to help encourage healthy joint and bone growth, ensuring that your pooch is always primed for any adventure.
Strengthens the immune system
Antioxidants are key to strengthening the immune system and in turn fighting illness. A specially tailored antioxidant blend found in Eukanuba pet foods helps to promote immune function as dogs age. This is another reason why it's so important to choose the right food based on your pet's age, activity level and so on.
<embed brand video </h2>
Ready to give it a try? Order Eukanuba pet food online and we'll deliver to you anywhere in SA
Browse our extensive selection of delicious Eukanuba dog food to find the ideal variant for your pooch. Then place your order to get delivery to your door in all major centres across South Africa. We always strive to deliver as quickly as possible.
Want even more convenience? You've got it. With Zuki's auto-delivery, you can set up a regular delivery schedule to ensure that all your pet's must-haves - from food to flea treatment, hygiene products, meds and more - are delivered to your door on a regular basis. You're always in complete control of your subscription, which means you can update it or cancel it at any time. It takes one more thing off your plate, saving you time and also money: you get up to 15% off all recurring orders.
Ready to try out this
paw-some
pet food service?
Start shopping now!
---