Emigrating with pets? Here are 8 steps to follow when leaving South Africa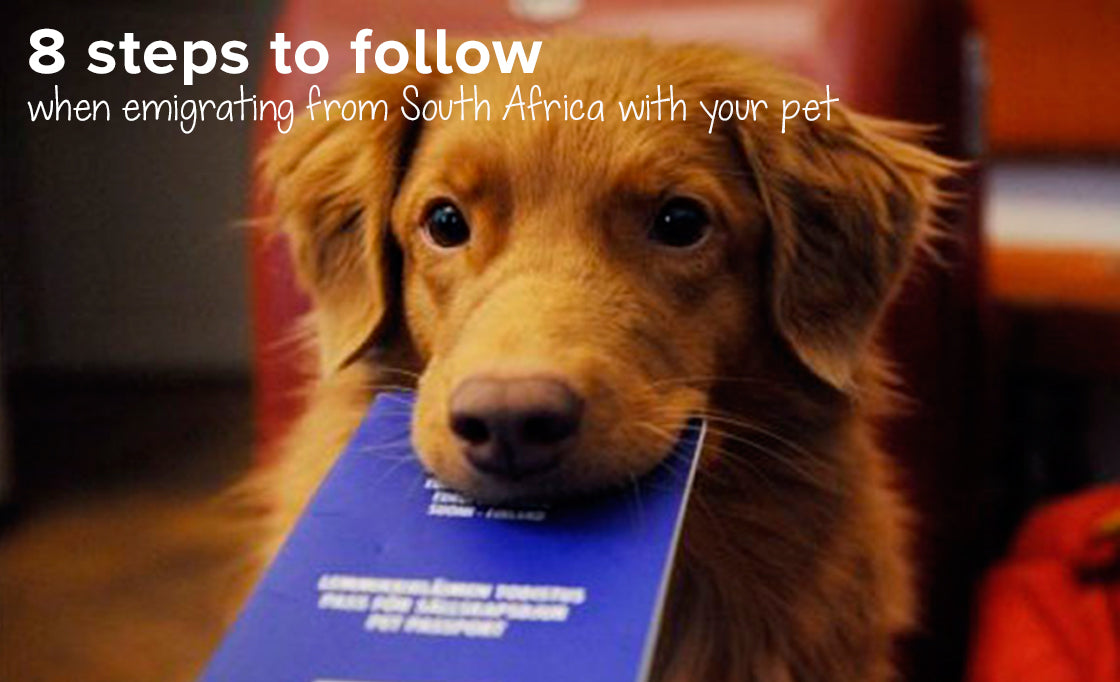 If you're emigrating you're probably dealing with tons of paperwork, and figuring out how to get your pets to your new country may feel overwhelming. Yes, there is a fair amount of red tape and admin involved (not to mention expense), but the good news is that in most cases, it's entirely possible to move your furbabies abroad with you, and there's no reason to give them up or leave them behind.
The most important thing is to start the process as soon as possible - ideally, nine months or more before you depart. It can take months to complete a pet export (as it's known), so the sooner you start, the better. You don't want to have to facilitate it from different sides of the globe (or be separated from your pets for longer than necessary).
It's also important to find out whether there's a quarantine period before and/or after you leave South Africa so that you can work out your travel time and calendar accordingly. Bear in mind that all countries require some degree of veterinary preparation.
Here are the most critical things to do when emigrating with your pet.
8 steps to follow when emigrating with your pet
Find out what the requirements are for bringing your pet into your new country - and get professional advice
Every country has its own regulations, so it's advisable to consult a professional pet relocation agency to make sure you have all your ducks in a row. These agencies will be able to guide you through the process, making sure you follow all the correct procedures and have all the right documents in place.
You may need pet import and export permits but not every country requires these. If you need these, you can speak to your vet about how to get them. Always rely on expert, professional advice only, as the wrong advice could have serious, time-consuming and costly consequences for you and your pet.
Have your pet cleared for travel
Once you have a basic idea of what's needed to relocate your pet, it's time for a visit to the vet so that your furbaby can be cleared for travel. You'll be issued with a health certificate for your pet to confirm that he or she is fit to travel. Make sure it's the right type of certificate for the country you're entering.
Make sure your pet's rabies vaccination is up to date
Rabies vaccinations must be valid - this is essential for any animal leaving South Africa. Again, different countries have different rules around the timelines for this vaccination and the quarantine period afterwards. Australia, for example, requires that the rabies vaccination be done several months before leaving South Africa. In many cases, rabies vaccines cannot be given less than 30 days before departing, so be sure to check with your pet relocation agent or vet. Vaccinating incorrectly can cause delays and unnecessary separation.
Your destination country will likely require a rabies test (RNATT), which can only be done after 30 days from the date of vaccination (if your pet's prior vaccinations have expired). Drawing blood earlier than this means your pet may not receive state vet clearance, may not be allowed to enter the destination country, or may be quarantined. Some countries only allow your pet to enter several months after the RNATT. Again, find out the specific laws for your destination so you can plan accordingly.
Get your pet microchipped
If your pet isn't yet microchipped, this is an essential step in the process. All animals leaving South Africa require a microchip. However, this must be implanted before the rabies vaccination is given, so factor this into your timelines.
Other vaccinations
Your vet will be able to guide you on any other vaccinations that your pet may be required to have. Your pet relocation expert will also be able to provide helpful additional information here. A vaccination against kennel cough, for example, may be recommended, as well as other preventative shots.
Research your airline and your pet's travel logistics
Choose an airline that is known to be pet friendly, and make sure you have the right equipment (get recommendations if possible, particularly from your vet). Ask as many questions as possible. There's no such thing as having too much information, because you want to be sure that your pet will be well looked after during the entire travelling process.
Who will be handling your animal? Will your pet be comfortable? What kind of carrier will it be transported in, and how will it be transported to and from each point in the journey? Ask about lighting, pressure and temperature in the area of the plane in which your pet will be travelling. Lastly, be sure to book the most convenient route for your pet to minimise stress and fatigue as much as possible.
Keep your pet's mental and physical wellness in mind at all times
Animals are highly perceptive and intuitive, and they're likely to know that something is afoot in the months and weeks leading up to departure. Try to keep their routine and normal as possible, and pay particular attention to their health and stress levels. They'll need extra love, care and comfort during this time. You'll also want them to be in peak physical shape when they travel.
Make sure you're moving into a pet-friendly home
It sounds obvious, but given the huge amount of research and work it takes to emigrate, it's understandable that 'minor' details may slip through the cracks - like ensuring that the place you're moving into is pet friendly. Be 100% certain of this before you put your pet on the plane, because the last thing you want is to discover that in a new, foreign country, your furbaby has nowhere to live.
During the emigration process, information - and sufficient amounts of time - are going to be your best friends. Research, research, research, and be sure that you take the advice of your vet and professional pet relocation expert. Don't only rely on hearsay or other people's experiences. Get first-hand information that is reliable and proven.
We wish you and your furkids a happy new start abroad, and smooth sailing through the emigration process.
Disclaimer: Always consult your vet for professional advice. The Zuki.co.za blog is provided as an educational tool and should not be used to diagnose illness or treat an animal.
---
1 comment