Things to consider when choosing pet food for your furbabies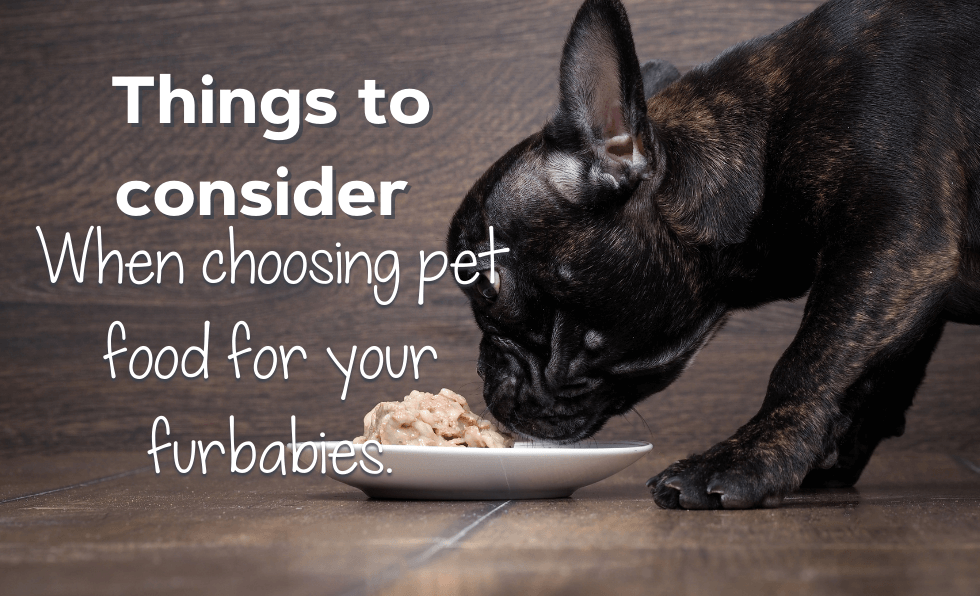 Dogs may have descended from wolves, but evolution has seen our domesticated companions' dietary requirements change over time.  We cannot stress enough the importance of choosing the right pet food when it comes to your fur baby's health, well-being, and emotional state.  Selecting the right food for your pet will set them up for a long, healthy, happy life.  Choosing the wrong food can significantly harm your pet's physical and behavioural development. 
It can be a daunting task choosing the proper diet for your beloved companion with so much ambiguous advice out there. 
Fret not, we're here to help!
Things to consider when choosing the right pet food for your bundle of fluff:
AGE OF YOUR PET
SPECIFIC NUTRITIONAL NEEDS
SERVING OPTIONS
AGE OF YOUR PET
As your pet transitions from being a pup or kitten into an adult, their dietary requirements change. Puppies or kittens under the age of 1 have completely different nutritional needs from an adult or mature pet over 7 years old. 
Puppies or kittens (Under Age 1)
Good puppy or kitten food should have a fair amount of lean protein and fat to aid rapid development.  Hill's have the perfect scientifically formulated diet for your baby-furs containing good amounts of lean protein and fish oil prepared to keep up with your baby's energetic lifestyle as well as supporting healthy brain, eye & skeletal development.
Click here for the puppy diet 
Click here for the kitten diet
Adult Dogs and Cats (1 - 7 Years)
As your fur-child hits their milestone 1st birthday, their diet should be adjusted to support this life stage.  High-quality ingredients packed with omega-6 fatty acids will support your precious pet throughout the prime of their lives.
Click here for the adult dog diet 
Click here for the adult cat diet 
Older Dogs and Cats (Age 7+)
As your pet transitions into the mature phase of his or her life, it's time to increase dietary support for mobility and brain function.  A diet rich in nutrients such as phytonutrients and L-carnitine will provide the best sustenance to your loyal companion as he or she entrants the 'sunset years'.
SPECIFIC NUTRITIONAL NEEDS
Be sure to take your doggo or cat's specific nutritional needs into account. There are many scientifically formulated diets for either mild health conditions or more serious ailments that will transform the life of your furry friend.
Nutrition for common health concerns
Perhaps your pet suffers from mobility or joint issues, digestive issues, itchiness, stinky breath, weight issues, or low mood.  Fret not; there are diets available to help manage these common health concerns.
Click here for the science plan diet which supports the management of common health issues.
Nutrition for more severe health conditions
Putting your dog on a Prescription Diet should be considered if your pet suffers from a more severe health condition or is struck by a sudden illness.  Prescription Diets are carefully formulated by teams of veterinarians, Ph.D. nutritionists, food scientists, and sensory experts to provide clinical nutrition designed for a variety of health conditions:
• Digestive issues
• Kidney issues
• Urinary issues
• Liver issues
• Environmental sensitivities
• Glucose management
Consult with your vet to receive recommendations on a prescriptive diet to prolong your pet's well-being and happiness.
SERVING OPTIONS
It's only logical that your choice should factor in your fur buddy's preference. After all, food is meant to be not only nutritious but yummy too.  Find a kibble designed for different-sized dogs or fuss-pot pets, or canned wet food that will generate purrs and excitable tail-wagging. Delicious savoury stews will see those little noses raised and sniffing the air; that's what it's all about.  Every pet deserves a little reward for being a good pup or kit-cat, be sure to shop for delicious and nutritious treats to reinforce good behaviour.
Dry Pet Food
Gone are the days of putting a bowl of tasteless, dry food down for your unenthused fur-kids. There are much tastier dry food options out there nowadays – guaranteed to get those bum-fluffers wagging like crazy.
Hill's has a delicious selection of yummy dry pet food, taste-tested at their Pet Nutrition Center to guarantee a satisfying taste and texture.
Wet Pet Food
Wet food can give your pet a significant hydration boost. It is excellent to serve as a meal on its own or a tasty accompaniment atop of kibble.  Hill's offers a great variety of canned wet food. Each can is loaded with everything your pet needs to function optimally.  Fair warning - the sound of a Hill's can being opened may induce uncontrollable bouts of happiness and excitement from your fur-angel.  Also, check out Hill's tasty stews packed with scrumptious morsels, mouthwatering veggies, and sauces designed to get your best friend licking his snout in approval.
Pet Treats
Who said treats have to be naughty!  Shop for treats that are both tasty and healthy for your cherished companion.  Hill's has a great selection of yum-yum goodies that help support your pet's oral health, ideal weight, and energy levels.
Need further advice on the most nutritious diet for your little angel? Click on the chat icon and one of our expert agents will happily help you!
---