Top 10 Dog Friendly Restaurants in JHB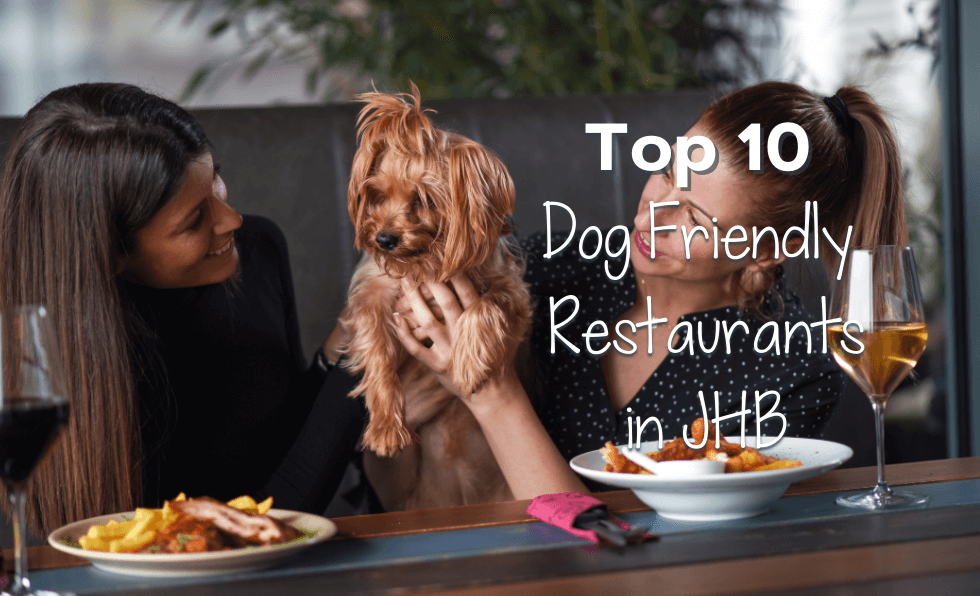 Gone are the days of having to leave your precious pooches to pine for you at home.  It's about time we give back to those fur buddies for loving us so unconditionally and let them tag along to one of these top 10 dog-friendly restaurants in Joburg (listed alphabetically).
"What do dogs do on their day off? Can't lie around – that's their job." – George Carlin (comedian)
Bergbron Plaaskombuis en Padstal, Blackheath – 076 932 4333
A traditional Afrikaans restaurant situated in a charming Cape Dutch house in Blackheath, the restaurant is surrounded by a tranquil garden where your dog can enjoy the sights and smells.  Dogs are permitted to roam off lead if well behaved.  A foodie's dream, traditional dishes such as "Sonop Jaffel", "Roosterkoek" or "Pap en kaiings" are bound to kindle fond memories of childhood.  I can smell Ouma's cooking just thinking about it.
Doppio Zero, Greenside – 011 646 8740
Your fur-friends will be treated like royalty at Doppio Zero, Greenside.  Doppio Zero source the freshest ingredients to provide you with healthy, delicious menu choices while your doggos are fussed over with dog biscuits and a place to lay-back on a wide patio alongside their favourite hoomans.
Gravity Café, Linden – 011 888 3810
Pack your hounds into the car and head out to Gravity Café for a lip-smacking breakfast paired with Gravity's renowned coffee for a grand start to the day.  If you're not an early riser then surface a little later and roll in for in a scrumptious burger.
Ground Café, Muldersdrift - 063 296 2274
Nothing quite encompasses "dog-friendly" or "gourmet food" like Ground Café.  Order a pup-a-cino for your pooch (with biltong sprinkles on top, duh) while you enjoy a decadent meal prepared by connoisseurs at the absolute top rung of the South African "foodie" ladder.  You'll be spoilt for choice with a selection of gourmet spreads and sweet deli treats.  Sounds perfect, right?  There's more - Ground Café also boast hiking trails for you and your precious doggos to enjoy at your leisure. Ground have officially created Heaven on Earth, and we love it.
Hell's Kitchen, Melville – 079 980 9591
If you are visiting Meville then Hell's Kitchen is a must!  The friendly vibe, rocker-image and prolific décor is underscored by live bands and great rock music. "Rock" up with your dog and be sure to sample the craft beer as you choose from an unpretentious gastro-pub style menu.
Patisserie De Paris, Randburg - 011 326 0913
Say Bonjour to this dog-friendly Parisian restaurant.  Live out your fantasy of nibbling on pastries in Paris or experiencing a real Parisian high tea (group bookings only). Patisserie De Paris offers a picturesque setting under the tree shade for you and your le chien (AKA Dawg, yo).  You and your hounds will be tugging at the lead to go back.
Riversands Farm, Midrand – 082 927 9675
Steeped in rich history and set in a rural wonderland, Riversands Farm is ideal for dog-lovers, adventurers and foodies. Riversands host live music on Saturdays at no cost, tree-top adventures for the little ones and picturesque walks for you and your hounds.  The Village offers a fantastic range of food vendors to suit all taste buds as well as premium craft beer to enjoy out on the grass while your pooches can enjoy some dog-biscuits dunked in pup-a-cinos.
Second Cup, Weltevreden Park – 011 679 4665
Escape the hustle & bustle of city life and drop in at Second Cup located in Weltevreden Park, Roodepoort.  In what can only be described as an enchanted forest-like garden, leaded fur companions are welcome while you sit and enjoy country-fresh cooking with banting and vegetarian options.  Got a sweet tooth?  Second Cup have you covered with indulgent, decadent cakes - guaranteed to delight your senses. 
The Brazen Head, Fourways - 011 465 5318
The Brazen Head immerses you in an authentic Irish experience with a hearty, down-to-earth menu and a warm welcome to your precious pooches.  You and your furry friend can relax out on an open veranda while you enjoy a cold one.
Voodoo Lily Café, Birdhaven – 011 442 6965
Get the dogs and kids into the car and head to Voodoo Lily Café for organic, sustainable yumminess for your whole fam – including the non-hoomans. A dog menu including chicken-breast, chicken livers and obvs dog-biscuits makes this the coolest place in Birdhaven to take your dawgs - and quite heavenly for humans too.
So now you have it, get out there and live your best life at these dog-friendly restaurants with your pooches. 
Know of any other fabulous dog-friendly eating spots? Leave your comments below
---
1 comment