Buy Orijen cat & dog food online | Pet food delivery South Africa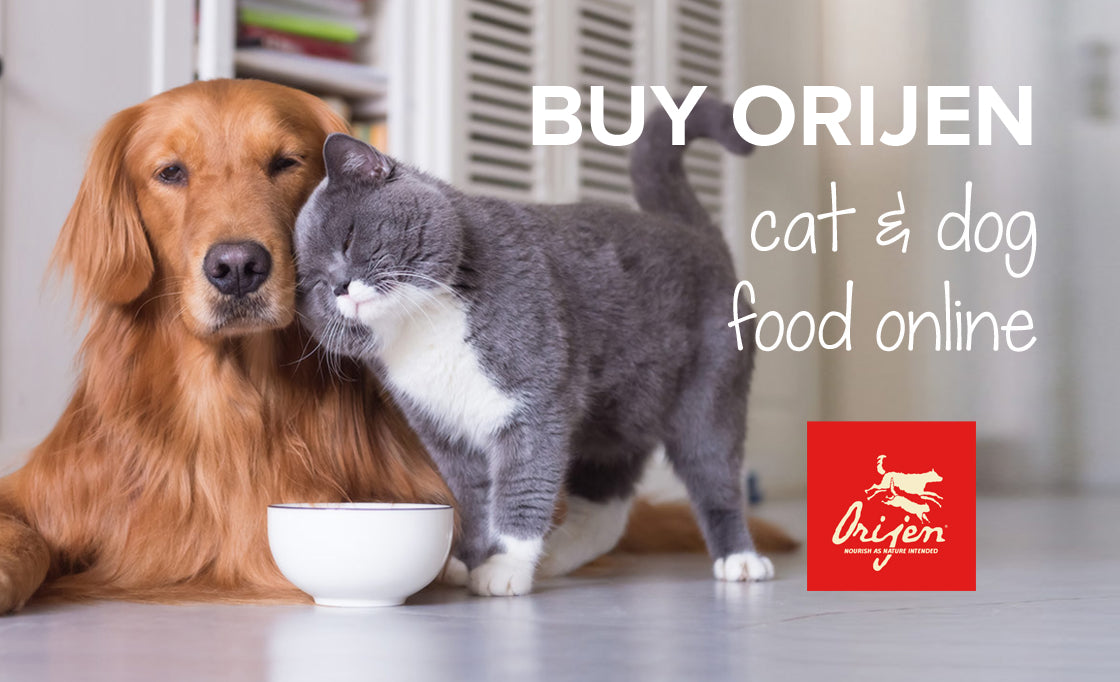 Most people don't spend too much time thinking about their pets' food - until it runs out, that is. Usually, you reach the bottom of the bag at the most inconvenient time, which means you have no choice but to feed your pet whatever's available at the 24-hour shop. If you're usually careful to feed your furbaby a healthy diet, then this junk food is not ideal - and let's be honest: it's never fun to have to pop out to the shops at 6am before work!
All of this is why we've set up scheduled deliveries at Zuki.co.za. It's the most convenient way to shop for your pets' food, medicines, hygiene products and a variety of other items. You simply set up your preferred delivery schedule and we make sure your items are always delivered on time, exactly when you need them. Find out more at the end of this article.
About Orijen pet food
If you're looking for a top-quality, biologically formulated option for your furbabies, you can't go wrong with Orijen.
Orijen offers award-winning pet food for cats and dogs. "Biologically Appropriate" Orijen is a superior type of pet food that has been formulated to nourish dogs and cats in the way nature intended. It is rich in fresh meat and protein, ensuring that your pet gets exactly what its body needs. 
Orijen is unique in that it offers unrivalled amounts of fresh poultry, eggs, wild-caught fish and ranch-raised meat. All protein is farmed and sourced where Orijen is produced, and is brought to their kitchens fresh and rich in nutrients. 
Orijen was awarded 'Pet food of the year' by the Glycemic Research Institute of Washington DC as the healthiest pet food in the world. It was developed in Canada and all protein sources used for its food are sustainably raised, farmed and caught. 
Why pick Orijen for your cats and dogs?
No matter the breed or size of your pet, our cats and dogs have the same digestive needs as their ancient, wild ancestors. Today, we may tote them around in handbags and let them sleep in our beds, but modern dogs and cats are still carnivores, and they are still equipped with sharp teeth and a digestive system designed to run on quality protein.
However, many commercial pet foods are loaded with non-protein fillers which offer little to no nutritional value to animals (and may even irritate sensitive systems). These fillers are used to bulk up food as cheaply as possible, so you get a bargain and your pet feels full - but in actual fact, your pet is not getting the nutrition he or she needs. Many of these foods are loaded with carbohydrates and high GI grains. Not only do these additives offer little nutritional value, but they can have a long-term negative impact on your pet's health. 
This is why Orijen foods for pets incorporate richly nourishing meats, organs and cartilage in ratios that mirror animals' natural diets. It reduces the need to add synthetic ingredients, because your pet feels full and satisfied after eating less food. 
Orijen pet food: developed by pet nutrition experts
Orjien works with a team of vets and animal nutritionists in developing every one of its foods for domestic pets. Ingredient partners are carefully selected to ensure that only the highest quality sustainable meat is used, and all fresh ingredients are free of GMOs and ethically sourced. 
Orijen contains 85% to 90% meat, two-thirds of which are fresh meat. This means that Orijen cat and dog food is able to mimic the natural eating habits of your pets - not only because of its high inclusion rates of fresh meat, but also because of its very limited amounts of carbohydrates. 
This is where the Biologically Appropriate aspect comes in: these are foods that are scientifically formulated to match the eating anatomy of the animal they're intended for. 
<embed brand video>
Shop Orijen pet food online at get delivery to your door
Zuki.co.za stocks a wide range of Orijen pet food for dogs and cats, puppies and kittens. And to make it even easier, you can set up a subscription order to get your pet's favourite food delivered to your door exactly when you need it. You don't need to remember to order, and you'll never accidentally run out.
Setting up a subscription is so easy. Simply find your preferred products online at Zuki.co.za and select your delivery frequency - anything from once-off to monthly or weekly, biweekly, and so on. Plus, you save up to 15% on all subscription orders, and you can edit, update or cancel your order any time you like, so there's no commitment. 
Start shopping now by using the search bar at the top of the page to find the products you're looking for. It's not just food you can buy at Zuki.co.za - we stock everything from treats and toys to hygiene products and flea treatment. We also have a range of items for small pets too. 
Happy hassle-free shopping!
---